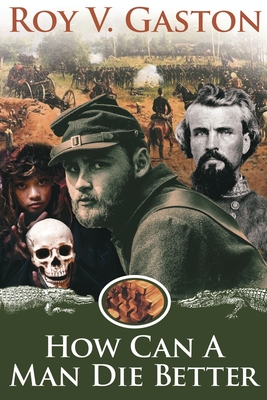 How Can A Man Die Better (Paperback)
Createspace Independent Publishing Platform, 9781548397807, 304pp.
Publication Date: December 11, 2017
* Individual store prices may vary.
Description
How Can A Man Die Better is an intense and dramatic work of historical fiction penned by author Roy V Gaston. Recommended for adult readers due to graphic content in battle, explicit language, and sexual references, this powerful tale of military tactics, sacrifice and revenge is set during the period of 1840-1870 in the American Civil War. The backdrop to the war leads us to 1862, where Cage Carew wants nothing to do with the conflict until a harrowing personal tragedy puts him into a bloodier mindset. He joins an ensemble cast of scouts and snipers under Captain Lyman Dunnock, so beginning an incredible journey through the intricacies of patriotism, loyalty, and justice in wartime.
Author Roy V Gaston has gone full tilt into an immersive and non-stop field of action, drama and great details garnered from real history....Cage allows us to see into the action and learn with him, endearing us to his desire to assuage his grief and seek revenge against the man who caused it. There are also fantastic cameo appearances from many of the central historical figures in the conflict, showcasing vicious warlords and real heroes facing off in well-timed and vividly described battle scenes. At its heart, there is a deep question of the nature of war and what it takes and means to be a soldier. Overall, How Can A Man Die Better gives a lot more than meets the eye as a deep, well considered and well-penned work of Civil War adventure fiction.
K.C. Finn
READERS FAVORITE EDITORIAL BOOK REVIEW*
In the summer of 1862, as the exploding Civil War tears the nation apart, Cage Carew, a soft handed academic living just north of the Ohio River, remains steadfastly disinterested. However, his indolence is shattered when his fiancee, who secretly aids fleeing slaves on the Underground railroad, is killed by sadistic slave catcher, Francois Devol.
Devastated and desperate for vengeance, Cage enlists in the 52nd Ohio Infantry Regiment of the gallant Colonel Dan McCook, who has sworn his own revenge. Cage volunteers for an elite company of scouts and snipers assigned to wipe out the roving Confederate bushwhackers, led by Devol, now a colonel in Nathan Bedford Forrest's fierce and dreaded Cavalry Corps who cloaks his depravities in the bloody partisan warfare roaring through bitterly divided Tennessee.
Cage becomes a ferocious warrior as he rubs elbows with iconic Union generals McCook, William Lytle, John T. Wilder while battling Braxton Bragg's Army of Tennessee, Forrest's rampaging cavalry and shares coffee and swimming holes with Sam Watkins of the 1st Tennessee Maury Greys. There are many close calls across ambushes and bloody battlefields, but each time Devol escapes, remaining just out of reach.
*
Roy V. Gaston's How Can a Man Die Better is not for the faint of heart. This amazing historical novel begins a few decades before the main events happen, and it literally takes the reader from one end of the world to the other. The background stories of Captain Lyman Dunnock and slave catcher Francois Devol are set in Europe, Asia, and America, but How Can a Man Die Better is set in the U.S. during the Civil War ...(and) presents an astounding and thoroughly consistent picture of a historical era. The frequent changes of setting cover so much geography that you fear you might get lost. This does not happen. Gaston guides the reader safely to the end, thanks to his superior writing skills. He minutely portrays each of his characters, even minor ones. It is easy to take a liking to the good ones and loathe the evil ones, especially Devol. Lively dialogues, rich descriptions, and accurate historical research are elements that define How Can a Man Die Better as an epic novel. The book is superlative.
Astrid Iustulin
READERS FAVORITE EDITORIAL BOOK REVIEW.
About the Author
How Can A Man Die Better is Roy V. Gaston's first novel, written after he retired from a career supervising housing units in Ohio prisons. Gaston has had a fascination with the American Civil War since his early elementary school days, after discovering Bruce Catton's American Heritage Picture History of the Civil War and David Greenspan's wonderful battlefield map illustrations. A native of Athens, Ohio and a graduate of Ohio University, his favorite genres are historical fiction, noir, hard boiled, Southern Gothic, alternative history, and westerns. He is fan of Harry Flashman, Hitch and Cole, Gus and Woodrow, Hap and Leonard, Spenser and Hawk, Marty and Rusty, Gravedigger and Coffin Ed, Statler and Waldorf, Buck and Roy, Willie and Waylon, and Conspiracy Theories.