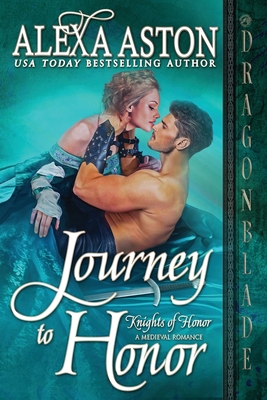 Journey to Honor (Paperback)
Createspace Independent Publishing Platform, 9781548398996, 254pp.
Publication Date: July 8, 2017
* Individual store prices may vary.
Description
When twin boys are born, a servant with a grudge switches their birth order . . . 1366 A.D. - Kenric Fairfax is raised as the second son of the Earl of Shadowfaire. The day of his Knighting Ceremony, a tragedy takes place-and Kenric flees the north of England, putting his past behind him as he swears he will never marry. He becomes a trusted knight in service to Lord Michael Devereux, who asks Kenric to lead an escort party from London in order to bring his wife's sister home to Sandbourne. Avelyn Le Cler has spent a year as a lady-in-waiting to Queen Philippa and finds the treachery at the royal court not to her liking. She looks forward to a summer visit with her sister Elysande, who will soon give birth to her first child. While journeying from London, Avelyn discovers a secret about Sir Kenric Fairfax that could change his life-if he believes her. But Avelyn is plagued with doubts since she has no proof to present Kenric. As the couple falls in love, Avelyn knows she must reveal to Kenric the truth she has learned about his birth-even if it costs her everything. Join Kenric and Avelyn as the truth rips them apart-but their enduring love brings them together again. Each book in the Knights of Honor series is a standalone story that can be enjoyed out of order. Series Order: Book #1 Word of Honor Book #2 Marked by Honor Book #3 Code of Honor Book #4 Journey to Honor.