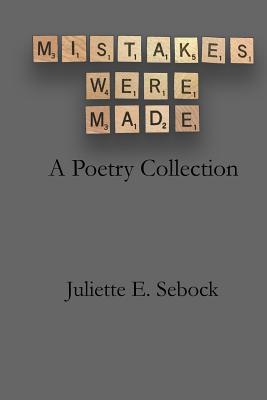 Mistakes Were Made (Paperback)
A Poetry Collection
Createspace Independent Publishing Platform, 9781548565077, 30pp.
Publication Date: July 4, 2017
* Individual store prices may vary.
Description
Mistakes Were Made is the debut poetry collection of Juliette Sebock. Written over years of watching the world around her, the poems compiled here examine love, loss, mistakes made, and lessons learned. This chapbook brings together poems about trauma, about love, and the moments in between. It takes a look at the mistakes we make throughout life, how we react to them, and how they affect us going forward. If you've ever loved and lost, regretted your choices or held firm to your decisions, Mistakes Were Made is for you. "Juliette Sebock.
About the Author
Juliette Sebock is a poet and writer born in small-town Pennsylvania. She loved writing from a young age but worked a variety of other jobs before settling on it as a career path. She graduated from Gettysburg College with a B.A. in English and focuses in American and British history. After several years of undergraduate journalism and work with sources such as Her Campus Media and The Mighty, she turned her focus primarily to poetry, publishing the chapbook Mistakes Were Made in 2017. Currently, Juliette is working on lifestyle blog, For the Sake of Good Taste, as well as on a variety of poetic and nonfiction pieces. When she isn't writing (and sometimes when she is), she can be found with a cup of coffee and her kitten, Fitz. To read more of Juliette's work or to get in touch, visit juliettesebock.com, email juliettesebock@outlook.com, or visit her various social media outlets.