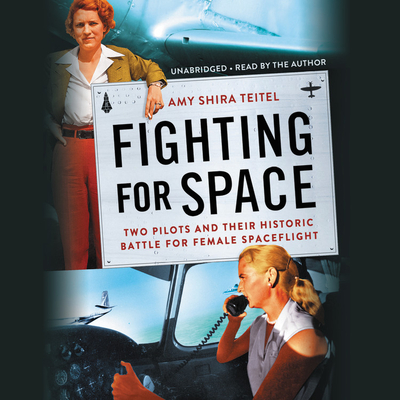 Fighting for Space (CD-Audio)
Two Pilots and Their Historic Battle for Female Spaceflight
Grand Central Publishing, 9781549121005
Publication Date: February 18, 2020
Other Editions of This Title:
Hardcover (2/18/2020)
* Individual store prices may vary.
Description
Spaceflight historian and creator of YouTube's "Vintage Space" Amy Shira Teitel tells the riveting story of the female pilots who each dreamed of being the first American woman in space.

A book that will appeal to readers of Fly Girls and The Astronaut Wives' Club, Fighting for Space is the mostly-unknown tale of Jackie Cochran and Jerrie Cobb--two accomplished aviatrixes, one generation apart, who each dreamed of being the first woman in space, but along the way battled their egos, their expectations, and ultimately the patriarchal society that stood between them and the stars.

Fighting for Space is a dual biography of these fascinating and fearless women, using their stories as guides through the changing social, political, and technical landscape of the time.




About the Author
AMY SHIRA TEITEL is a spaceflight historian, author, YouTuber, public speaker, and popular space personality. Not unlike her subjects, she is one of the only academically trained young female spaceflight historians writing for a general audience. She runs the beloved blog Vintage Space (hosted by Discover Magazine) which is also a YouTube channel with over 325,000 subscribers. She's a regular writer for Discovery's Seeker and has hosted numerous space and science-related shows, among them NASA's Unexplained Files. She gives talks about spaceflight all over the US and Australia.