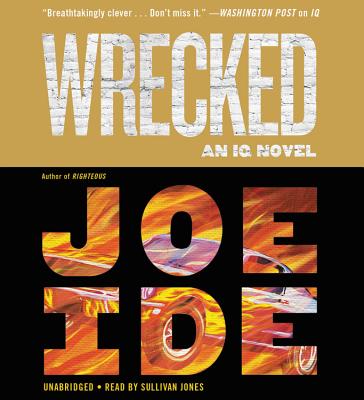 Wrecked (An IQ Novel #3)
CD-Audio

* Individual store prices may vary.
Other Editions of This Title:
Digital Audiobook (10/8/2018)
Paperback (1/21/2020)
Hardcover (10/9/2018)
Library Binding, Large Print (12/26/2018)
Compact Disc (10/9/2018)
Description
In this outrageous novel from Joe Ide, "the best thing to happen to mystery writing in a very long time" (New York Times), the case of a young artist's missing mother sets IQ on a collision course with his own Moriarty.

Isaiah Quintabe -- IQ for short -- has never been more successful, or felt more alone. A series of high-profile wins in his hometown of East Long Beach have made him so notorious that he can hardly go to the corner store without being recognized. Dodson, once his sidekick, is now his full-fledged partner, hell-bent on giving IQ's PI business some real legitimacy: a Facebook page, and IQ's promise to stop accepting Christmas sweaters and carpet cleanings in exchange for PI services.

So when a young painter approaches IQ for help tracking down her missing mother, it's not just the case Isaiah's looking for, but the human connection. And when his new confidant turns out to be connected to a dangerous paramilitary operation, IQ falls victim to a threat even a genius can't see coming.

Waiting for Isaiah around every corner is Seb, the Oxford-educated African gangster who was responsible for the death of his brother, Marcus. Only, this time, Isaiah's not alone. Joined by a new love interest and his familiar band of accomplices, IQ is back -- and the adventures are better than ever.
Praise For Wrecked (An IQ Novel #3)…
One of the Best Books of the Year - CrimeReads

"Joe Ide's IQ novels are an electrifying combination of Holmesian mystery and SoCal grit."—Wilder Davies, Time

"Joe Ide opens Wrecked, the third book in his blazing IQ series, with the novelist's equivalent of a stun gun. . . . [IQ is] an appealing central character, propped up by a cast of crooks Elmore Leonard would envy. . . . Ide is still the hottest of recently-emerged crime writers. He has populated Southern California with wildly entertaining characters, from those hinted at offstage to the motormouths whose priceless talk fills his pages."—Janet Maslin, New York Times

"Wrecked is full of violent action, hairbreadth escapes and poignant life lessons: an unpredictable book written by an author with wizard-like gifts."—Tom Nolan, Wall Street Journal

"As far as I'm concerned, Joe Ide can't write them fast enough."—New York Times Book Review

"Joe Ide is one of the hottest mystery novelists at work... the wonder of love, the cruelty of war, the black world he knows well, the music he loves--all the beauty and cruelty and craziness he filed away in his mind before he began writing these novels. With Wrecked, Ide confirms that he's among the most original new voices in today's crime fiction."—Patrick Anderson, Washington Post

"Raised in South Central, Joe Ide expands the territory of L.A. noir."—Gal Beckerman, New York Times

"A lively writer with a smart-aleck streak... His dialogue is clever and advances the narrative, and he knows how to stage an action scene."—Seattle Times

"Embodies a lot of thought-provoking analysis, a good deal of brutality, and more than a smattering of Three Stooges thrown in for balance... Of his many talents, Ide's greatest is putting the reader definitively in the moment. The sense of audacity is what sets him so far apart from writers who try mightily to simulate tough guys from the streets... His characters' vernacular, some of it hysterically funny, is unfailingly spot-on."—Newark Star-Ledger

"Once again, Ide brilliantly combines caper-style comedy with real-world violence and more than a dollop of complex human relationships, the kind that too often lead to mess and muddle rather than happily-ever-aftering. If you haven't discovered this series yet, remedial action is required immediately."—Booklist (starred review)

"The hip-hop generation's answer to Sherlock Holmes returns fast and furious in the third installment of Ide's celebrated series... Ide's penchant for colorful characters, droll banter, and whackadoodle set pieces is aided by a growing command of narrative dynamics. And Isaiah Quintabe remains an engaging, fascinating protagonist... There's a harder, darker edge to the violence that gives this ripsnorting follow-up a rueful yet resonant aftertaste, perhaps in anticipation of more unsettling jolts in the hero's future."—Kirkus

"Wrecked takes Ide's unlikely hero into new territory, with foes that test his mettle in ways his previous adversaries could not even fathom, and with a possible love interest that exposes an entirely new facet of IQ's character."—BookPage

"Having read all three of Joe Ide's novels about the young Sherlock Holmes of the 'hood, Isaiah Quintabe, I am pleased to say that his third novel, Wrecked, is the best one yet. The stakes are higher, the suspense more intense, and the addition of a budding romance provides more character depth. Read it, enjoy it, and then impatiently wait around for the next one like the rest of us."—Kareem Abdul-Jabbar, author of Mycroft Holmes and Coach Wooden and Me

"With writing so sharp you may cut your fingers on the pages, Joe Ide's latest IQ novel, Wrecked, is outrageous and laugh-out-loud funny, a page-turner with devastating observations about the dangers of state-sanctioned violence and its consequences. The characters are unforgettable, none more so than IQ himself. Like in the previous books, IQ's tender intelligence and his tight moral compass are what make this series so stirring... and touching."—Attica Locke, Edgar Award-winning author of Bluebird, Bluebird
Mulholland Books, 9781549173929
Publication Date: October 9, 2018
About the Author
Joe Ide grew up in South Central Los Angeles, where his favorite books were the Conan Doyle Sherlock Holmes stories. He held a variety of different jobs -- including Hollywood screenwriter -- before writing IQ, his debut novel, which went on to win the Anthony, Macavity, and Shamus awards. Joe lives in Santa Monica, CA.
or
Not Currently Available for Direct Purchase