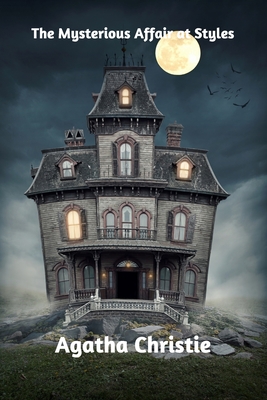 The Mysterious Affair at Styles
Paperback

* Individual store prices may vary.
Other Editions of This Title:
Digital Audiobook (10/18/2012)
Digital Audiobook (5/31/2013)
Digital Audiobook (8/13/2012)
Paperback (12/1/2004)
Paperback (1/21/2013)
Paperback (9/22/2015)
Paperback (8/27/2010)
Paperback (6/20/2006)
Paperback (10/11/2007)
Paperback (2/7/2018)
Paperback (10/21/2014)
Paperback (4/9/2020)
Description
The Mysterious Affair at Styles is a detective novel by Agatha Christie. It was written in the middle of the First World War, in 1916, and first published by John Lane in the United States in October 1920 and in the United Kingdom by The Bodley Head (John Lane's UK company) on 21 January 1921.The US edition retailed at $2.00 and the UK edition at seven shillings and sixpence (7/6).Styles was Christie's first published novel. It introduced Hercule Poirot, Inspector (later, Chief Inspector) Japp, and Arthur Hastings. Poirot, a Belgian refugee of the Great War, is settling in England near the home of Emily Inglethorp, who helped him to his new life. His friend Hastings arrives as a guest at her home. When the woman is killed, Poirot uses his detective skills to solve the mystery. This is also the setting of Curtain, Poirot's last case.The book includes maps of the house, the murder scene, and a drawing of a fragment of a will. The true first publication of the novel was as a weekly serial in The Times, including the maps of the house and other illustrations included in the book. This novel was one of the first ten books published by Penguin Books when it began in 1935.This first mystery novel by Agatha Christie was well received by reviewers. An analysis in 1990 was positive about the plot, considered the novel one of the few by Christie that is well-anchored in time and place, a story that knows it describes the end of an era, and mentions that the plot is clever. Christie had not mastered cleverness in her first novel, as "too many clues tend to cancel each other out"; this was judged a difficulty "which Conan Doyle never satisfactorily overcame, but which Christie would.
Independently Published, 9781549605260, 234pp.
Publication Date: August 27, 2017