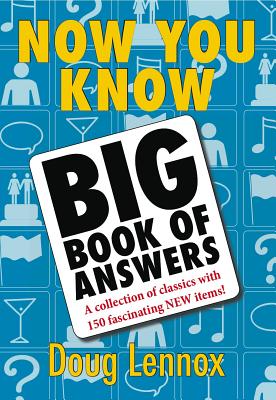 Now You Know Big Book of Answers
Paperback

* Individual store prices may vary.
Other Editions of This Title:
Paperback (9/1/2008)
Paperback (9/7/2009)
Description
Doug Lennox is back with a treasure trove of his favourite trivia culled from his four previous Now You Know books plus 125 brand new questions answered by the master of Q & A. Lennox dispenses knowledge concisely, never losing sight of the joy and fun of discovering the why or ordinary things. He covers a wide range of topics from sports to war, from crime to religion, from pop culture to politics. Answers to questions and the origins of hundreds of expressions and customs are brought together in this fascinating compilation. Thanks to Doug, you'll learn the answers to:
Why do humans kiss?
Why is a miserly person called a cheapskate?
Why is an evil adversary called a villain?
Why is football played on a gridiron and a leg injury called a charley horse?
Why is confetti thrown at a wedding?
Why do golf courses have 18 holes?
Why do the British drive on the left and North Americans on the right?
Why is a road called a highway and the ocean the high seas?
Dundurn Group, 9781550027419, 496pp.
Publication Date: August 1, 2007
About the Author
Doug Lennox is an internationally acclaimed broadcaster, a veteran character actor, a commercial voice artist, and a best-selling author. He has appeared in more than 60 films and television features, including X-men, Police Academy, Lonesome Dove, and Against the Ropes, and he has shared screen time with Meg Ryan, Hugh Jackman, James Garner, Burt Reynolds, Holly Hunter, Charles Bronson, Eric McCormack, Gary Oldman, and many others.
or
Not Currently Available for Direct Purchase