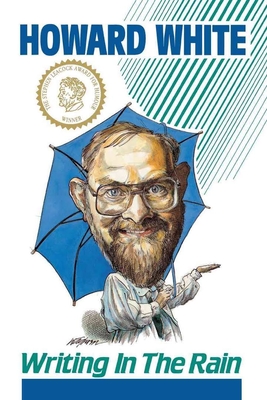 Writing in the Rain (Paperback)
Harbour, 9781550170108, 256pp.
Publication Date: January 1, 1990
Other Editions of This Title:
Audio cassette (1/1/1995)
Paperback (1/1/2016)
* Individual store prices may vary.
Description
Raincoast Chronicles, Spilsbury's Coast, The Accidental Airline, A Hard Man to Beat, The Men There Were Then. . . and now another one to top off the list. Writing in the Rain features the same fascination with British Columbia and the same ability to bring its stories to life that have brought Howard White numerous awards and accolades, including the Canadian Media Club Award for best feature and the Canadian Historical Association Award for Regional History.

Here, among others, are stories about the magic of the tides; about Minstrel Island, one-time logging hub turned ghost village; the perils of roaring down the Sunshine Coast Highway in a decrepit Volvo, and of navigating the same highway in a dumptruck full of fish guts, all told with Howard White's wit, intelligence and insight.
About the Author
Howard White was born in 1945 in Abbotsford, British Columbia. He was raised in a series of camps and settlements on the BC coast and never got over it. He is still to be found stuck barnacle-like to the shore at Pender Harbour, BC. He started Raincoast Chronicles and Harbour Publishing in the early 1970s and his own books include A Hard Man to Beat (bio), The Men There Were Then (poems), Spilsbury's Coast (bio), The Accidental Airline (bio), Patrick and the Backhoe (childrens'), Writing in the Rain (anthology) and The Sunshine Coast (travel). He was awarded the Canadian Historical Association's Career Award for Regional History in 1989. In 2000, he completed a ten-year project, The Encyclopedia of British Columbia. He has been awarded the Order of BC, the Canadian Historical Association's Career Award for Regional History, the Stephen Leacock Medal for Humour, the Jim Douglas Publisher of the Year Award and a Honorary Doctorate of Laws Degree from the University of Victoria. In 2007, White was made an Officer of the Order of Canada. He has twice been runner-up in the Whisky Slough Putty Man Triathlon. Barry Broadfoot was born in Winnipeg in 1926, and died in Nanaimo, British Columbia, in 2003. After editing the University of Manitoba student newspaper, Broadfoot worked at papers in Winnipeg and Edmonton, and at the Vancouver Sun, where he was a reporter, editor and troublemaker for 17 years, starting in 1955. That ended in 1972, when Broadfoot chucked his daily job, got into his old Volkswagen with an upright typewriter, and drove across the country, collecting the stories that became his first book, Ten Lost Years. His other books include The Pioneer Years, Next Year Country and The Immigrant Years. Broadfoot received the Order of Canada in 1987.
or
Not Currently Available for Direct Purchase