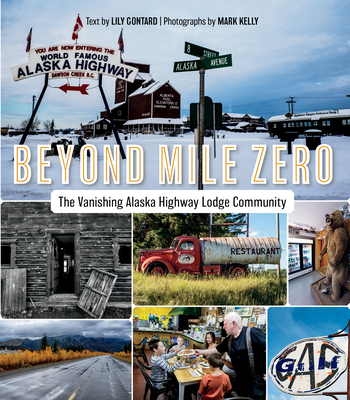 Beyond Mile Zero (Paperback)
The Vanishing Alaska Highway Lodge Community
Harbour, 9781550177978, 224pp.
Publication Date: June 24, 2017
* Individual store prices may vary.
Description
In 1942, the west coast of North America was under threat after the attack on Pearl Harbor, prompting the US government to build a military road from Dawson Creek, BC, to Delta Junction, AK. Renowned as a driving challenge and for its remote scenic beauty, the Alaska Highway opened to the public in 1948.
It was the beginning of the golden age of the automobile. Silvertip, Swift River, Silver Dollar, Krak-R-Krik, Chickaloon and other quaint and quirky establishments sprang up along the highway, offering travellers coffee, gas, conversation and a place to spend the night. During the roadhouse heyday, owners and employees lived on the frontier and earned good wages. Some were looking for a life-long commitment and a place to raise a family, others relished the isolation. Aside from truckers, today most people travel the Alaska Highway in fuel-efficient cars and self-sufficient RVs--the demand for lodge services has diminished and the businesses struggle to survive.
Since December 2014, Yukoners Gontard and Kelly have been visiting operating and abandoned lodges, recording the unique culture of the Alaska Highway before it disappears completely. The book includes the recollections of Gay Frocklage, whose parents, Doris and Bud Simpson, ran one of the oldest roadhouses on the highway, Mile 716 Rancheria Lodge, Yukon; and Bud and Pam Johnson, who met at the Mile 1318 Tok Lodge, Alaska, were married six months later and ran the lodge for three decades; as well as Ross Peck whose parents, Don and Alene Peck, operated Mile 200 Trutch Lodge, BC, as a highway lodge and hunting outfitting base from 1950-1963.
Featuring both archival and contemporary photographs, Beyond Mile Zero explores the evolution of Alaska Highway culture and will be of interest to locals and travellers alike.
About the Author
Lily Gontard's fiction, non-fiction and poetry have appeared in magazines such as Geist,The Puritan, Cirque and The New Quarterly. She has worked for a variety of magazines including the Malahat Review, the Georgia Strait and Geist and was the founding editor of Yukon, North of Ordinary magazine. She currently works as a promotions officer for Parks Canada in Whitehorse, YT. Beyond Mile Zero is her first book. Learn more about her at www.gontard.ca.
Mark Kelly made his first image with the Kodak Instamatic 110 camera he received for his eighth birthday. His passion for photography has taken him around the world, and after a canoe trip in 1997 to the Yukon, he returned in 1999 to make his home in Whitehorse. He is a part-time photographer and full-time therapist, and uses photography in the therapeutic process. View more of his photography at http://www.depthoffield.ca.