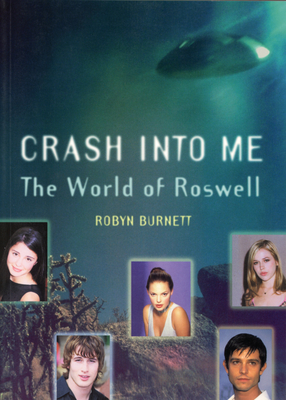 Crash Into Me
The World of Roswell
Paperback

* Individual store prices may vary.
Description
A new spin on the concept of teen alienation. Roswell is an intense, intelligent drama inviting the question: what if aliens survived the famous U.F.O. crash of 1947? Based on the popular book series Roswell High by Melinda Metz, the show explores the lives of three alien/human hybrid teenagers as they struggle with their human allies to keep their genetic secret while eluding the FBI, battling enemy forces, and most importantly, simply trying to grow up. Roswell incorporates the usual themes of romance, friendships, parental conflicts, and rebellion while incorporating an old sci-fi mystery that took America by storm. Roswell was instantly popular when it first aired in 1999, and both fans and the media loved the show. When the wb announced Roswell's impending cancellation in 2000, fans petitioned the network and received a second season. When it happened again, fans turned their sights to UPN, the network that was thinking of taking over the show from the WB, and sent them 12,000 bottles of Tabasco sauce (the alien's drink of choice). Floored by the fan reception, the network picked up the show. Crash Into Me features biographies of the actors and creators of the show, along with details on the original crash of 1947. Author Robyn Burnett includes in-depth commentaries on each episode, as well as exploring the alien mythology that has influenced the storylines. The focus of Crash Into Me is Roswell's incredibly resilient fan base, which will stand behind the show no matter what.
ECW Press, 9781550225396, 250pp.
Publication Date: October 1, 2002
About the Author
Robyn Burnett is the co-author of A Chance For Life: The Suzanne Giroux Story. A graduate of the University of British Columbia's creative writing program, Robyn has written for both film and theatre. She currently lives in Toronto.
or
Not Currently Available for Direct Purchase