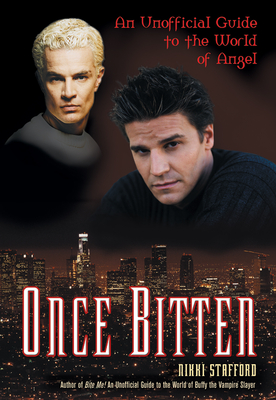 Once Bitten
An Unofficial Guide to the World of Angel
Paperback

* Individual store prices may vary.
Description
He was a drunkard who was turned into a vampire in 1756, and became known as the most vicious of his kind for the next 150 years. In 1899 he was re-ensouled by a gypsy looking for revenge, and with his conscience back, he had to relive the guilt and horror of what he'd done, and decided to atone for his sins by helping the very people who were once his victims. Welcome to world of Angel, the most original and thought-provoking show on television. The show is a spin-off of the equally intelligent Buffy the Vampire Slayer, a show that broke new ground for its portrayal of strong women. Now that Buffy has staked her last vampire, Angel has gotten more notice from critics and fans, out from the shadow of its predecessor. This book features: a history of the show and how it has changed over the years a summary of the 2003 Posting Board Party in L.A. that was attended by many of the actors of Angel a section on the best Angel Web sites, including a profile of cityofangel.com, the official source of Angel information a trivia quiz a look at Buffy and Angel's recognition in academic circles a complete episode guide of all five seasons of Angel, complete with brief summaries, analyses, highlights, continuity errors, interesting facts, music/bands, and other interesting facts an episode guide to the final season of Buffy that will act as a completion to Bite Me , and exclusive behind-the-scenes photos.
ECW Press, 9781550226546, 438pp.
Publication Date: October 1, 2004
or
Not Currently Available for Direct Purchase