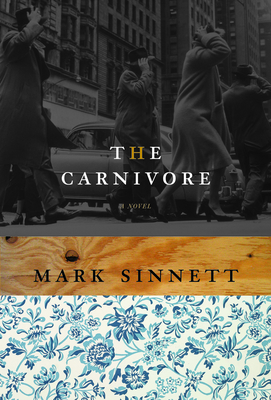 The Carnivore
Hardcover

* Individual store prices may vary.
Other Editions of This Title:
MP3 CD (7/19/2016)
Paperback (9/1/2011)
Description
The Carnivore is a historical novel of disaster and betrayal, set in the Toronto of both 1954 and 2004. In the aftermath of Hurricane Hazel, a young cop, Ray Townes, emerges as a hero. There are numerous accounts of his bravery, of the way he battled all night to save those who were trapped in houses swept away by the raging Humber River. His story is featured prominently in the newspapers, thrusting him into the spotlight as a local celebrity. His wife performs her own small miracles that night. Mary is a nurse at St. Joseph's Hospital and she treats many of the survivors. The emergency room is overrun; the hallways are slick with river mud: of course, her feats go almost unnoticed. But among the victims she treats there is a woman, disoriented and near death, who reveals mad-seeming details of her ordeal -- details that lead Mary to doubt her husband's heroism. The officer and the nurse (with a new house, new friends, and plans for a family) try to normalize their life together in a shell-shocked city, but Mary also searches for the truth about her husband. Is he simply the tired hero who stares out at her from the cover of the Globe and Mail, or is it a much darker figure who sits across the table from her at breakfast? Definitive answers are elusive . . . Fifty years later, when a reporter comes knocking, wanting to revisit that violent night, the missing details finally surface -- and threaten to destroy them.
Praise For The Carnivore…
"A cleverly constructed and evocatively written novel."  Booklist Online
"Weds the pinprick domestic intimacy of Alice Munro with the flop-sweat extra-marital intrigue of James M. Cain."  Toronto Star
"One of those rare literate books that cares enough about the reader to provide a plot . . . Sinnett has made an original, terrifying portrait of Toronto's soul." 
Eye Weekly
"Sinnett keeps the pages turning with many twists and turns, while peppering the text with nice turns of phrase. . . . Sinnett's meticulous research captures what the sights, sounds and smells of 1954 Toronto might have been like. . . . This book is for those who want thoughtful prose and fallible characters with their plot. . . . A reader of any age will find lots of action in
The Carnivore
on which to gnaw."  GlobeandMail.com
"I just couldn't get enough . . . Sinnett creates such a vivid and honest picture of Ray and Mary's world that reading the book feels something like looking over their shoulders during the course of their relationship." 
The Keepin' It Real Book Club (blog)
"Mark Sinnett could not have invented a more Canadian, more Ontario, more Toronto setting for his remarkable novel." 
Literary Review of Canada
Misfit Book, 9781550228984, 255pp.
Publication Date: September 1, 2009
About the Author
Mark Sinnett is the author of: The Landing (Carleton University Press, 1997), poetry, winner of the Gerald Lampert Memorial Award; Bull (Insomniac Press, 1998), short stories; Some Late Adventure Of The Feelings (ECW Press, 2000), poetry; and The Border Guards (Harper Collins, 2004), a novel/thriller, short-listed for the Arthur Ellis award. He lives in Kingston, Ontario.
or
Not Currently Available for Direct Purchase