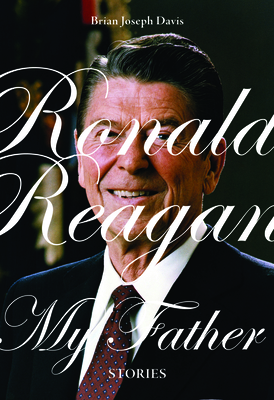 Ronald Reagan, My Father
Paperback

* Individual store prices may vary.
Description
"An elegant, wise-ass rush of truth, hiding riotous social commentary in slanderous jokes ... It almost feels like he's leading a palace coup." -- Spin Magazine on Portable Altamont "Davis' brilliant media deconstructions are pointed and hilarious at the same time." -- Kenneth Goldsmith "The book of your fever dreams." -- Slate on I, Tania The elderly take to the streets at night for illegal and cathartic electric scooter racing. (Think Two-Lane Blacktop but starring Abe Vigoda and Estelle Getty.)A copy editor suffers brain damage from West Nile virus and is suddenly filled with cannibalistic violence and award-winning minimalist poetry. (It's a little like Awakenings, but directed by David Cronenberg.) Mayor McCheese visits a sexually repressed British couple in the early 1970s and touches their lives forever. (Okay, try this: Pasolini's Teorema but with Mayor McCheese.) A Texas doctor transplants the mind of a meth-addicted convict into the body of a suburban web developer, resulting in America's first "death-penalty case that turned into a custody case that turned into a right-to-die case." (It's like a hole drilled in your head and five HBO original movies poured in all at once.) Startlingly original but anchored by vivid characters, Ronald Reagan, My Father weaves all these ideas, and more, into a bleakly hilarious vision that's both human and uncanny -- as if Raymond Carver was marooned on Mars with ten hours to live.
Praise For Ronald Reagan, My Father…
"Serious hilarity."  Frieze magazine

"A kind of magnificence."  New York Press


"Smart on paper and fascinating in execution."  LA Weekly
"Credit Brian Joseph Davis with many things: a roomy imagination, big appetite for the absurd, healthy sense of humor, heightened sense for the telling detail, reference and setting (these are decidedly pop cultural), curiosity, and cleverness." 
Telegraph-Journal
"Davis demonstrates real craft, combining humor with narrative development, humane warmth, and a convincing command of vernacular expression. . . . Ronald Reagan, My Father is hyper-satire intended for those who appreciate Davis's dark humor and share his cultural enthusiasms, which are equal parts populist and arcane. Fans of the edginess of Davis's previous work will find similar satisfaction in this slim volume."  Quill & Quire
"A darkly humourous collection of pop-cultural satires, experiments, jeremiads, and gasp conventional bouts of realist storytelling. This is an unabashed mash-up of style, subject and register, reaching unusual heights of narrative diversity." 
Broken Pencil
Misfit Book, 9781550229172, 137pp.
Publication Date: April 1, 2010
About the Author
Brian Joseph Davis is an artist and the author of Portable Altamont and I, Tania, as well as the co-founder of Joyland.ca, which the CBC called "the go-to spot for readers seeking the best in short fiction." Davis has written for the Globe and Mail, Utne, and Eye Weekly. He lives in Toronto.
or
Not Currently Available for Direct Purchase