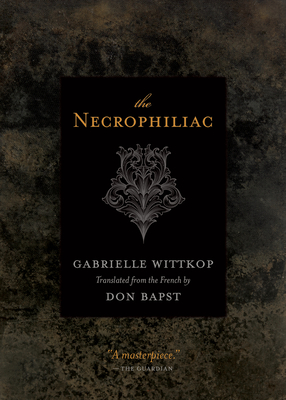 The Necrophiliac (Paperback)
ECW Press, 9781550229431, 91pp.
Publication Date: May 1, 2011
Other Editions of This Title:
Paperback, Large Print, Large Print (11/21/2012)
* Individual store prices may vary.
Description
?For more than three decades, Lucien -- one of the most notorious characters in the history of the novel -- has haunted the imaginations of readers around the world. Remarkably, the astounding protagonist of Gabrielle Wittkop's lyrical 1972 novella, The Necrophiliac, has never appeared in English until now. This new translation introduces readers to a masterpiece of French literature, striking not only for its astonishing subject matter but for the poetic beauty of the late author's subtle, intricate writing. Like the best writings of Edgar Allan Poe or Baudelaire, Wittkop's prose goes far beyond mere gothic horror to explore the melancholy in the loneliest depths of the human condition, forcing readers to confront their own mortality with an unprecedented intimacy.
About the Author
Gabrielle Wittkop was the author of several novels in her native French. Don Bapst is an award-winning filmmaker and the author of "danger@liaisons.com" and "The Hanged Man."
Praise For The Necrophiliac…
"A striking book, unique in its kind, in which one suddenly finds oneself thrown up against 'that flesh so cold, so soft, so deliciously tight, found only in the dead.'"  Actuel

"There lies within it a velvet smooth writing of baroque coldness, which goes marvelously well with its exceptional subject matter: a man who unearths cadavers, takes them into his apartment, loves them, and weeps to see the decomposition of flesh that takes them away from him. . . . The Necrophiliac is a queer book: a flawless delicacy of oblique irrationality."  Hubert Juin, Combat

"It's a fascinating dive into the abyss into which Gabrielle Wittkop has invited us. The loves of a necrophiliaca real oneso abrupt, raw, direct, disturbing and yet capable of moving us to pity. . . . An ode without a touch of complaisance or amorality to the icy beauty of the cold sexes and putrescent charms of bodies the colors of wax with the strange odor of moths. An arresting style with macabre, hypnotic accents."  Philippe Lecardonnel, L'idiot international

"This would be a poor and revolting little book (fewer than 100 pages, which is quite enough, really) if it did not have such a poised tone and sensibility, such intelligence, behind it. . . . This is a masterpiece." The Guardian (July 21, 2011)

"This text exists in a purity that is as refreshing as it is uncompromisingly elegant. A rare and valuable read for any mind not weakened with the drugs of dross." www.cosmoetica.com

"Stylishly written, The Necrophiliac is a disturbing but impressive work." The Complete Review (August 5, 2011)