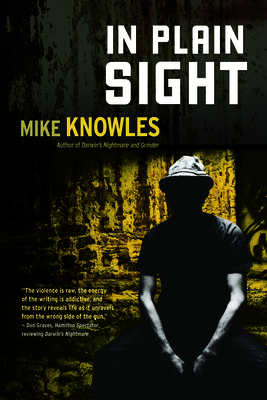 In Plain Sight (Hardcover)
ECW Press, 9781550229486, 188pp.
Publication Date: July 27, 2010
Description
Wilson thought he had acquired freedom from being a gritty, gruesome criminal when a car accident puts him back in the crosshairs. This time, dirty cops use him as bait, telling him the only way to stay out of cuffs is to put someone worse in them. Knowing that justice isn't blind in the city, Wilson picks a fight with the Russian mob to lure both the corrupt cops and brutal robbers into a trap, scavenging once again for his freedom. Full of gory conflict, this latest in the Wilson Mystery series offers nonstop action and savage violence.
About the Author
Mike Knowles is an elementary school teacher and the author of "Darwin's Nightmare" and "Grinder." He lives in Hamilton, Ontario.
Praise For In Plain Sight…
"Gunfights and well-choreographed scenes of carnage abound . . . This is pure, visceral action." Publishers Weekly


"There's nothing prissy, genteel, or insincere in Mike Knowles' work prose so spare it flirts with cruelty, that cuts scalpel-clean and just as precise, and crackles with the kind of talent and energy that not only makes it difficult to put down, but that sends you frantically looking for his next book. Hard-boiled, hard-edged, hard-core, but never once crossing into parody or pastiche. There is power here, and Knowles knows how to use it."  Greg Rucka, author, the Atticus Kodiak crime fiction series
"Think Canadian crime fiction is soft? Mike Knowles proves otherwise, in this tense, terse, bloody-knuckled thriller. Knowles doesn't do niceand his antihero, Wilson, makes Mike Hammer look like a well-adjusted pacifist. A kick in the nuts with steel-toed boots."  Sean Chercover, author, Trigger City and Big City, Bad Blood
"Knowles's prose is appropriately terse and utilitarian, enhancing the grinder's menace. Wilson is a bad guy you can root for, because the other bad guys not to mention the cops are so much worse . . . Wilson's raw brutality draws readers in, and the book's frenetic pace is enough to keep them hooked until the bloody climax."  Quill & Quire
"[Knowles] is a good atmospheric writer and he has the lingo down."  Globe and Mail
"
In Plain Sight
comes at you like a tsunamihard, relentless, fast. Knowles is exploring invigorating new pathways in Canadian thriller-noir writing." 
Hamilton Spectator
Advertisement