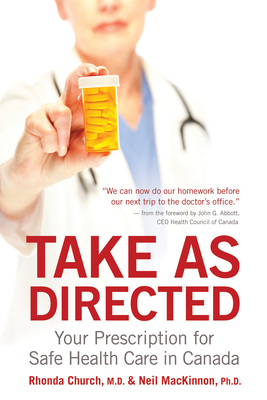 Take as Directed (Paperback)
Your Prescription for Safe Health Care in Canada
ECW Press, 9781550229523, 299pp.
Publication Date: September 1, 2010
* Individual store prices may vary.
Description
?Take As Directed gives Canadians a much-needed guidebook to safely navigate our encounters with health-care providers and optimize the management of our own health. In recent years, evidence indicating that our health-care system can be made safer has emerged. Here, a family physician and a pharmacy professor discuss the role each of us can play in achieving the best and safest possible health outcome for ourselves and our families. In clear and engaging language, Take As Directed walks the reader through the call to the family doctor's receptionist, the examination room encounter, the pharmacy counter, a visit to the emergency department, and a stay on the hospital ward, and outlines common pitfalls in these encounters. Health-care consumers will learn how to provide critical information to their caregivers and know what information they must obtain from them. Since many adverse health outcomes are related to the use of medications, readers will learn how to safely and effectively use their prescriptions and over-the-counter drugs. Take As Directed is the first and definitive source book to: - offer down-to-earth advice on how Canadians can obtain good health care, even in a "sick" system. - outline communication styles of health-care providers and offer tried-and-true tips and tricks on dealing with various "bedside manners." - offer guidance on optimizing the use of medications at home and reducing the chances of experiencing an adverse drug event, one of the commonest reasons for visits to Canadian emergency departments. - identify trustworthy sources of health and medication information on the web. All health-care consumers will benefit from the sage voices of the authors, two of Canada's most respected health-care professionals.
About the Author
Rhonda Church, MD, has worked as a family physician for almost 20 years. She is a past president of Doctors of Nova Scotia, the professional organization that represents the province's physicians; a past board member of the Canadian Medical Association; and a member of the Canadian Medical Associations Committee on Health Care and Promotion. She lives in Bridgewater, Nova Scotia. Neil MacKinnon PhD, is a pharmacist, an associate director of research, and an associate professor at Dalhousie University. He has published more than 150 papers and given more than 130 presentations at health care and scientific meetings on the safety and effectiveness of the medication-use system. He lives in Halifax, Nova Scotia.
Praise For Take as Directed: Your Prescription for Safe Health Care in Canada…
"The Canadian Patient Safety Institute is pleased to endorse Take as Directed. This is a valuable tool to help Canadians navigate the healthcare system safely."  Hugh MacLeod, CEO, Canadian Patient Safety Institute
"An essential primer for all Canadians for navigating the health care system."  Robin Osborn, vice president and director, international health policy, The Commonwealth Fund, New York
"Church and MacKinnon provide useful guidance for navigating the complexities of Canadian healthcare and guarding against unintentional harm. They weave together patient stories, sound advice and useful information, suggesting useful strategies for patients seeking care for themselves and their families."  G. Ross Baker, professor of health policy, management and evaluation, University of Toronto
"An ultimate healthcare guidebook . . . A must read for patients and their caregivers."  Pharmacy Practice
"How to reduce chances of an adverse drug reaction, what to do in the event this happens, how your local pharmacist can be a source of valuable information and how to successfully manage medication side-effects."  Hamilton Spectator
"An invaluable new resource to help Canadians navigate the health care system, especially in relation to medication safety." 
Canadian Family Physician Magazine
"I would recommend this book to pharmacists, as it provides a general overview of potential vulnerabilities in the Canadian health care system, along with practical ideas to help patients use the system. It is also a book that can be recommended to patients and other health care providers to increase their understanding of the pitfalls in how the health care system works." Canadian Pharmacists Journal (March/April 2011)
"While ordinary Canadians will glean some insight into how to more effectively navigate the system, this book would be best read by physicians and other health care professionals. It should also be included in medical and pharmacy school curricula, for it illustrates that the healing of our fractured health care  system must come from within."  Canadian Medical Association Journal (CMAJ)
or
Not Currently Available for Direct Purchase