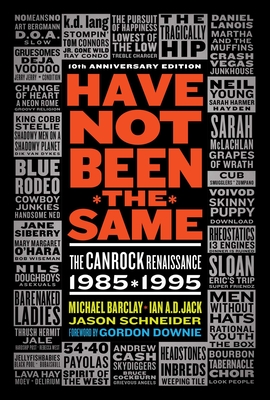 Have Not Been the Same (Paperback)
The Canrock Renaissance 1985-1995
ECW Press, 9781550229929, 739pp.
Publication Date: June 1, 2011
* Individual store prices may vary.
Description
Portion of edition statement from p. ix.
About the Author
Michael Barclay is a musician and sings on Arcade Fire's album "Funeral." He blogs at Radio Free Canuckistan and has written for a variety of Canadian newspapers and magazines, including CBC.ca, "Exclaim!," "Eye Weekly," "Magnet," and "Maclean's," where he currently works. He lives in Toronto, Ontario. Ian A. D. Jack is a teacher and songwriter. He records and performs with the Loft Party and Headpets. He lives in Port Hope, Ontario. Jason Schneider is a writer whose work can regularly be seen in "Exclaim!" He has been a contributor to the "Globe & Mail," the "Toronto Star," and many other publications. He is the author of "3,000 ""Miles "and "Whispering Pines." He lives in Waterloo, Ontario. Gordon Downie is a Canadian rock musician and a writer. He is the lead singer and lyricist for the Canadian rock band the Tragically Hip. He lives in Kingston, Ontario.
Praise For Have Not Been the Same: The Canrock Renaissance 1985-1995…
"Barclay, Jack and Schneider are all musicians and write about Canadian music from the inside. They survey the music from the perspective of informed fans, as opposed to dispassionate critics, and they do it with energy, enthusiasm and devotion." Waterloo Record (June 25, 2011)

"There is, without a doubt, no better book on the rise of popular Canadian music in the 1980s and 90s than Have Not Been The Same. . . . [It] tells the story of a country learning to love the sound of its own voice. Recommended." Scene (July 14, 2011)

"Maybe it's American egotism that makes us treat Canada like our toque-sportin' retarded cousin who on occasion says or does something cool or funny. Fact is, if we paid enough attention, we'd see that the poor little hoser has quite a lot to say, and most of it's insightful and stimulating. Hell, the spaz may only have ADD or something." —www.Blurt-Online.com