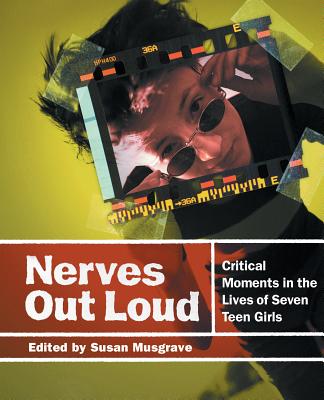 Nerves Out Loud: Critical Moments in the Lives of Seven Teen Girls (Hardcover)
Critical Moments in the Lives of Seven Teen Girls
Annick Press, 9781550376937, 112pp.
Publication Date: September 1, 2001
* Individual store prices may vary.
or
Not Currently Available for Direct Purchase
Description
When something major occurs in your life, you are never the same again. In Nerves Out Loud, seven women writers share pivotal moments from their teen years, concentrating on an event or series of events that changed their lives and turned them in a new direction. By telling their stories passionately and fearlessly, these authors encourage young women everywhere to grab their youth and their sense of self and hold on tight as they examine who they are.
Told in each woman's unique voice, these stories are conveyed sometimes with humor and sometimes with terror, but each with a sense of urgency and honesty. "After the Flood" - Melanie Little Melanie's youth has been spent under the enormous pressures of competitive figure skating. When stress leads her to quit, she faces disappointment from her parents, a sense of failure within herself, and the deep emptiness that comes when something that has taken up your whole life is suddenly gone. "Fourteen Turns" - Carellin Brooks In a world of adults, Carellin is faced with a trade-off between a comfortable home and a foster father who bombards her with sexual advances. She struggles to keep both her body and her sense of self safe. "Will You Kiss Me?" - Marnie Woodrow Desperate to care about girly things, Marnie believes that her urge to kiss girls is strange and unusual. When her best friend hands her a note, Marnie realizes that she isn't alone and experiences the tremendous sense of freedom that comes from understanding and accepting oneself. "Home" - Madeleine Thein Caught in a clash of cultures and family disharmony, leaving is a reality in Madeleine's home. In the middle of the night, in anger, across the seas, one family member after another disappears, yet left at the center, strong and constant, her mother remains. "Nerves Out Loud" - M.K. Quednau Within the realities of domestic violence Marion summons the courage to survive tragedy and to find her voice through writing. "The Skinny One" - Karen Rivers Filled with a power that comes from denying herself, Karen wages an incredible, angry battle within as she tries to reach elusive and unrealistic goals that she has set for herself and her body. "Going Crazy, Wanna Come?" - Susan Musgrave With her trademark humor, Susan invites readers into her wild teen years on the run -- from school, to California, from a mental hospital. With the help of other writers she realizes she isn't crazy -- she's a poet.
About the Author
Susan Musgrave is a poet, novelist, children's writer, essayist, and columnist. Her home is on Vancouver Island with her two daughters.
Advertisement