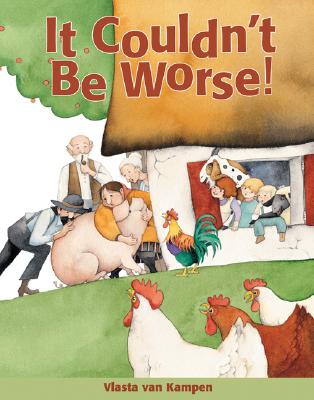 It Couldn't Be Worse (Paperback)
Annick Press, 9781550377828, 32pp.
Publication Date: February 1, 2003
* Individual store prices may vary.
or
Not Currently Available for Direct Purchase
Description
The tiny house had just one room for the farmer, his wife, their six children, and the grandparents. They quarreled and fought and got in each other's way. It couldn't be worse
On hearing of their difficult situation, a wise old fishmonger suggests the family take their goat inside the house with them. The farmer's wife is dumbfounded by this strange advice. But as the fishmonger is such a wise man, she follows his suggestion.
The next day the farmer's wife tells the fishmonger that things couldn't be worse He smiles and tells her to take their sheep into the house, then things will get better. As the woman and her husband push and pull the sheep into the house, they remind themselves that the fishmonger must be a wise man.
Next the farmer's wife is advised to bring the pig into the tiny house, and soon they have been convinced to bring all the barnyard animals inside. Finally, the desperate woman returns to the fishmonger and tells him that things couldn't be worse He smiles broadly and tells her to take all of the animals out of the house, then things will definitely get better. And of course they do. He was, after all, such a wise man
This adaptation of a classic folk tale unfolds with sprightly illustrations, richly colored and filled with hilarious details.
Key Features Award-winning author/illustrator Hilarious story that will give children fits of giggles Detailed illustrations add to the humor and build on the absurd circumstances
About the Author
Vlasta van Kampen is the author and illustrator of "A Drop of Gold," which won the IODE Book Award and the Blue Spruce Book Award. She has illustrated over 30 books, including "What's the Difference?," which was nominated for the Silver Birch Award. Vlasta teaches at the Ontario College of Art and Design in Toronto.
Advertisement