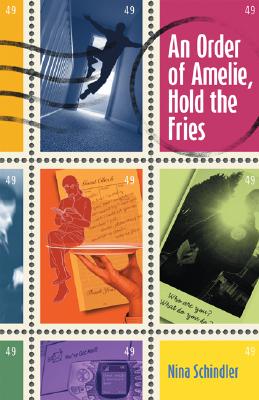 An Order of Amelie, Hold the Fries (Paperback)
Annick Press, 9781550378603, 136pp.
Publication Date: July 1, 2004
* Individual store prices may vary.
or
Not Currently Available for Direct Purchase
Description
"An ultra-modern teen love story."
Seventeen-year-old Tim is smitten when he glimpses the girl of his dreams. But who is she? When her name and address falls from her bag, he can't believe his luck.
Tim boldly writes to his fantasy woman. But to his surprise, the address belongs to someone else: Amelie. She writes Tim back to say she's hardly the girl he spotted: she's not beautiful, she's two years his senior, and she's as good as engaged. Intrigued by her wit, and pumped by the challenge, Tim tries to convince Amelie to meet him.
A series of humorous and sarcastic exchanges begin. Through emails and letters, scratchings on take-out containers, and scrawlings on news clippings, the relationship grows.
The unstoppable energy and optimism in the letters are conveyed through the inventive lay-out devoting one page to each message. An Order of Amelie, Hold the Fries is the "Griffin and Sabine" for teens.
About the Author
Nina Schindler is a former teacher whose extensive work includes crime fiction, picture books and young adult novels. She frequently lectures on youth and the media.
Advertisement