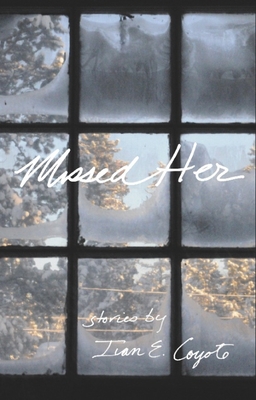 Missed Her (Paperback)
Arsenal Pulp Press, 9781551523712, 142pp.
Publication Date: August 31, 2010
Description
Ivan E. Coyote's fifth collection of funny, wistful stories on gender and identity.
About the Author
Ivan E. Coyote is the author of four previous story collections (including 2008 s Lambda-nominated The Slow Fix) and the novel Bow Grip, selected as an ALA Stonewall Honor Book. Originally from the Yukon, she now lives in Vancouver."
Praise For Missed Her…
"These vignettes read as though they've been freshly torn from a wanderer's notebook, where they were immediately jotted down so as not to lose the vibrancy of the experience. The result is refreshing and tearfully realCoyote has a gift for blending the tragic and comic in a way that renders a reader gobsmacked.... The writing in Missed Her is direct yet lyrical, poetic yet unadorned, reaching simultaneously for the heart and the gut with brevity and power." Quill & Quire (STARRED REVIEW)

"With this collection, more than ever, Coyote delves into the seriousness of sexual conventions and gender roles with a wit that bridges a gap between city and country, oral and written, the self-conscious writer and the contemplative reader."
The Globe and Mail

"Her stories, all culled from her personal experience, yield a glimpse of a life not frequently spoken of in mainstream queer circles. Coyote's perspective on small town queer life resists what Judith Halberstam calls 'metronormativity,' or the assumption that queer desire and community cannot exist fully outside of urban centers."
Lambda Literary

"My favorite book this year without a doubt has to go to Ivan Coyote's Missed Her. This collection of short stories are a honest, beautiful and complicated weaving together of queer experience that will break your heart and stitch it back together. Missed Her left me cracked open feeling raw and seen in a way that only the very best books are capable of. It's an absolute must read." Sassafras Lowrey, editor of Kicked Out (from Band of Thebes' list of Best Books of 2010)

"Warm, perceptive storytelling ... These tales, a bracing blend of self-effacing and brave, embrace universal themes within singular moments 'Good Old Days,' about teaching memoir writing to a class of senior citizens, both confronts Coyote's concerns about their potential prejudice and realizes the sentiment that 'love is just love.'" Richard Labonte, Book Marks

"Coyote's sense of humour and genuine affection for people from all walks of life bridge urban-rural gaps that might otherwise preclude an effective exploration of the social markers that attempt and fail to define us in traditional, heterosexual terms. The effect is akin to attending a party where Coyote has invited all of her friends and family: it's a motley assortment of people and ideas, but no one feels out of place, and everyone is welcome." Georgia Straight
Advertisement