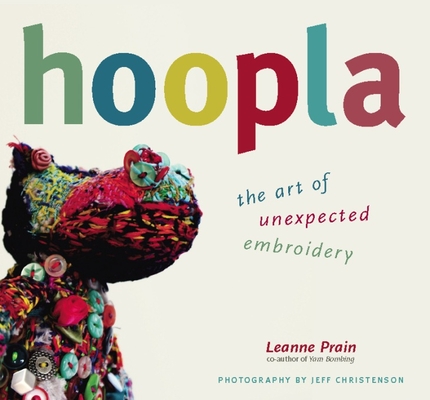 Hoopla
The Art of Unexpected Embroidery
Paperback

* Individual store prices may vary.
Description
A Library Journal Best Book of the Year Hoopla, by the co-author of 2009's bestselling Yarn Bombing: The Art of Crochet and Knit Graffiti, showcases those who take the craft of embroidery where it's never gone before, in an astonishing, full-color display of embroidered art. Hoopla rebels against the quaint and familiar embroidery motifs of flowers and swashes, and focuses instead on innovative stitch artists who specialize in unusual, guerrilla-style patterns such as a mythical jackalope and needlepoint nipple doilies; it demonstrates that modern embroidery artists are as sharp as the needles with which they work. Hoopla includes twenty-eight innovative embroidery patterns and profiles of contemporary embroidery artists, including Jenny Hart, author of Sublime Stitching; Rosa Martyn of the UK-based Craftivism Collective; Ray Materson, an ex-con who learned to stitch in prison; Sherry Lynn Wood of the Tattooed Baby Doll Project, which collaborated with female tattoo artists across the United States; Penny Nickels and Johnny Murder, the self-proclaimed Bonnie and Clyde of embroidery; and Alexandra Walters, a military wife who replicates military portraits and weapons in her stitching. Full-color throughout and bursting with history, technique, and sass, Hoopla will teach readers how to stitch a ransom note pillow, mean and dainty knuckle-tattoo church gloves; and create their own innovative embroidery projects. If you like anarchistic DIY craft and the idea of deviating from the rules, Hoopla will inspire you to wield a needle with flair With a foreword by Betsy Greer.

Praise For Hoopla: The Art of Unexpected Embroidery…
With hilarious DIY projects, like needlepoint nipple doilies, Hoopla proves that there's a place in every woman's heart (and wardrobe) for some cheeky thread work. Elle

Prain (co-author of Yarn Bombing) offers out-of-the-ordinary designs, starched with humor. Informative and inspirational interviews with embroiderers prove they don't sew like their grannies. But Grandmother would approve of the practical sectionson history, tools from needles to the humble thimble, types of embroidery, and finishing techniques. Publishers Weekly

Prain's examination of the world of alternative, free-form embroidery is both inspiring and educational. Part art book, part guide, it will appeal to crafters who are looking for something beyond the stamped patterns available in big-box craft stores. Library Journal ("A Best Book of 2011")

Projects don't disappoint, with directions as clear as the designs are funky: handkerchiefs emblazoned with microbes, a modern cuckoo clock stitched on Aida cloth, and knuckle-tattoo church gloves. Booklist

If you thought embroidery was just for hankies and little girls' church shirts, you will quickly dispose of such nonsense when you peek into the colorful pages of Hoopla ... the how-to portions of the book are beautifully interwoven with inspired photographs and thoughtful interviews with embroidery renegades whose work is like nothing you've ever seen. Foreword Magazine
Arsenal Pulp Press, 9781551524061, 400pp.
Publication Date: October 4, 2011
About the Author
Leanne Prain: Leanne Prain co-founded a stitch-and-bitch called Knitting and Beer in order to expand her skills while knitting at the pub. A professional graphic designer, Leanne holds degrees in creative writing, art history, and publishing. She lives and crafts in Vancouver, BC. Jeff Christenson: Jeff Christenson is a Vancouver photographer.
or
Not Currently Available for Direct Purchase