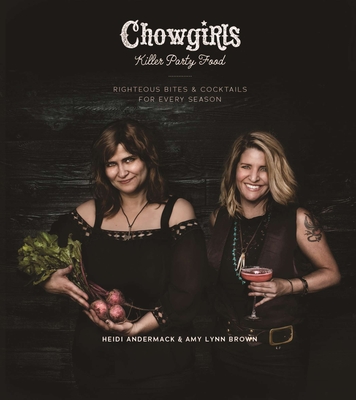 Chowgirls Killer Party Food (Paperback)
Righteous Bites & Cocktails for Every Season
Arsenal Pulp Press, 9781551526454, 168pp.
Publication Date: October 4, 2016
* Individual store prices may vary.
Description
With an eye for style and appreciation for seasonal ingredients, the proprietors of Chowgirls Killer Catering, one of the Midwest's leading catering companies, share their inspired ideas for delicious appetizers, small plates, and cocktails that are perfect for home entertaining. Amy Lynn Brown and Heidi Andermack were early adopters of the local, organic, sustainable, and seasonal approach to cooking; their ethos is clearly reflected in this cookbook, which offers fun, elegant, and yet easy-to-prepare recipes arranged by season that will be the hit of your next social gathering.
For your party to welcome spring, impress your guests with Spring Pea Toasts with Gouda, Mint-Crusted Lamb Chops, and Wasabi Crab Cakes. For that backyard summer fest, try Flank Steak Skewers with Chimichurri, Sweet Corn Risotto with Grilled Shrimp, and Gazpacho Jars. On that chilly fall gathering, offer the Grilled Sirloin with Farro Tomato Salad, Bacon-Pecan Tartlets, and Roasted Fall Vegetables with Saffron Aioli. And for that festive winter blow-out, make the Italian Beef Sliders, Crab & Green Chile Gratin, and Artichoke Tapenade. Then to wash it all down, make sure there's plenty of Mint Julep Sweet Tea, White Sangria, and Strawberry Basil Daiquiris
Andermack and Brown's shared passion for cooking and entertaining shines throughout this beautiful and inspiring cookbook. Their "righteous bites" will impress your guests with dazzling, organic, locally sourced recipes that show you care. Party on
Michigan-born Heidi Andermack and Kentucky-born Amy Lynn Brown co-founded Chowgirls Killer Catering in 2004. They both live in Minneapolis, Minnesota, with their respective families.
About the Author
Heidi Andermack: Heidi Andermack co-founded Chowgirls Killer Catering in 2004. She is a passionate member of her community in Minneapolis, helping establish the Northeast Minneapolis Arts District and serving on the board of the local farmers market. She is mom to Maximillian and wife to world-renowned font designer Chank Diesel.Amy Lynn Brown: Amy Lynn Brown was born and raised in Kentucky but ended up in Minneapolis, where she married an old college friend. After a 15-year career in bookselling and publishing, she co-created Chowgirls Killer Catering in 2004. She stays busy distance running, gardening, and raising her three daughters Frances, Louise, and Julip.