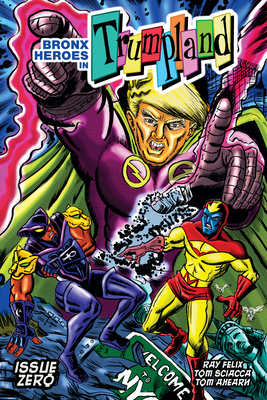 Bronx Heroes in Trumpland
Paperback

* Individual store prices may vary.
Description
Astron Star Soldier is an astronaut/alien warrior who first appeared in Tom Sciacca's Astral Comics #1 in 1977. Black Power is an African American superhero, war veteran, and former boxer who first appeared in Ray Felix's comic A World Without Superheroes in 1993. As the Bronx Heroes dedicated to eradicating criminals and fighting injustice, they join forces to confront their greatest foe ever--an evil supervillain named Donald Trump. Trump is a toupee-wearing scoundrel plotting to use mind control to vanquish America after first conquering the five boroughs of New York. With his help of the evil prince Putin and his MAGA hat-wearing goon named Gorka, Trump is determined to build walls, create divisiveness, and destroy the media. Astron Star Soldier and Black Power resolve to defeat Trump and restore order but are hypnotized into helplessness by Trump's scheming FLOTUS. Can the Bronx Heroes succeed where Mueller, Hilary Clinton, and the US congress failed, and save the nation from itself? Outlandish and recklessly funny, Bronx Heroes in Trumpland is a comic book that will make you believe in America again.
Arsenal Pulp Press, 9781551528052, 72pp.
Publication Date: April 14, 2020
About the Author
Ray Felix is a Bronx native born in 1973. His comics include Bronx Heroes 1.0: Runaway Slave, Bronx Heroes 2.0: The Greatest Hero Black Power, Heavy Traffic, Enter: The Roach, and A World Without Superheroes. Felix is also the founder of the community-based organization Bronx Heroes Comic Con and co-founder of Women in Comics Con, both of which promote literacy and education through the practice of reading and creating comics. He has been the recipient of numerous awards and grants including from New York State Council on the Arts in 2011-2016, the National Endowment for the Arts, and Bloomberg Philanthropies; he was also awarded a Citation of Merit from the Borough of The Bronx for his community based work and teaching at-risk LGBTQ youth. Tom Sciacca is a Bronx-born artist/writer/journalist/filmmaker. In high school, he met future Marvel superstar George Perez, and the two bonded over their mutual love of comics. The duo started working on various fanzines in the 1970s, finally breaking into Marvel Comics in 1974, where Tom worked as assistant to Stan Lee. He was later assistant to Vince Colletta, art director at DC Comics, where he worked on projects such as the 1978 film Superman and the comic book Superman vs Muhammad Ali. Sciacca was also one of the first indie comic publishers, of Astral Comics in the 1970s and early 1980s; he recently revived Astral Comics with Ray Felix as art director.