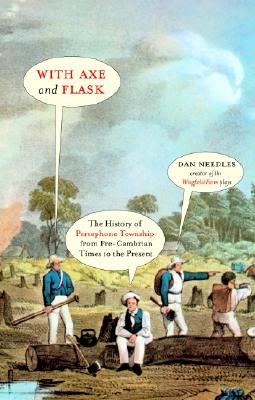 With Axe and Flask: The History of Persephone Township from Pre-Cambrian Times to the Present Day (Paperback)
The History of Persephone Township from Pre-Cambrian Times to the Present Day
Macfarlane Walter & Ross, 9781551990880, 280pp.
Publication Date: November 12, 2002
* Individual store prices may vary.
or
Not Currently Available for Direct Purchase
Description
Winner of the Stephen Leacock Medal for Humour for 2003


The creator of the hugely popular Wingfield Farm plays lays bare a beguiling corner of rural Canada

Just a few hours north of the city, you'll find the familiar features of Persephone Township: the hardscrabble farms, the timeless small towns, the laconic local citizens. The fabled turf that is home to Wingfield Farm (immortalized by Dan Needles in five one-man stage productions), Persephone is hard to find on any map but very near the Canadian soul.

In Persephone anything can happen and often does. Towering local figures dating back to the township's murky colonial beginnings land-grabbing speculators, shady railway promoters, heedless despoilers of natural wonders, and spectacularly slippery politicians cross paths with the likes of Sir John A. Macdonald and Wilfrid Laurier, not to mention the rebel William Lyon Mackenzie and the future King Edward VII. With Axe and Flask tells it all, sparing no Canadian sacred cow in uncovering the township's checkered past, from the displacement of its original native inhabitants to the recent invasion of the weekenders.

You are about to enter a world at once strange and recognizable, where past and present, fact and fiction combine in a potent mix of comedy, pathos and national identity.
About the Author
Dan Needles is the creator of the Wingfield plays, five full-length stage comedies for solo actor, that have been staged continuously in theatres across Canada and in the United States since 1984. There have been nearly 3000 performances, including those on CBC radio and television, and appearances at every English-language theatre in the country. Dan is a regular columnist for "Harrowsmith" and "Country Guide" magazines. He lives with his wife and family on a small farm near Collingwood, Ontario.
Advertisement