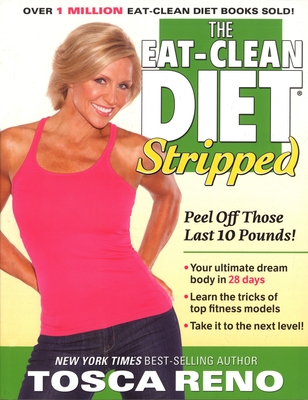 The Eat-Clean Diet Stripped (Paperback)
Peel Off Those Last 10 Pounds!
Ballantine Books, 9781552100868, 312pp.
Publication Date: March 16, 2011
* Individual store prices may vary.
Description
Getting rid of the last 10 pounds is the hardest part of losing weight because your body wants to hang on to them. So many people exercise and eat right, but those pounds refuse to budge and they have no idea why! Author Tosca Reno shares the slim-down secrets of fitness models and celebrities, teaching readers how to finally lose that last 10 pounds and keep it off for good. Bonus! 50 new Eat-Clean recipes!
About the Author
Tosca Reno is an internationally known nutritionist, weight-loss specialist, fitness trainer, motivational speaker, and bestselling author. Her Eat-Clean Diet book series has sold more than two million copies. She tours 250 days out of every year, speaks approximately ten times per month all across North America, and appears at book and health events, bookstore signings, and school events several times a year.
or
Not Currently Available for Direct Purchase