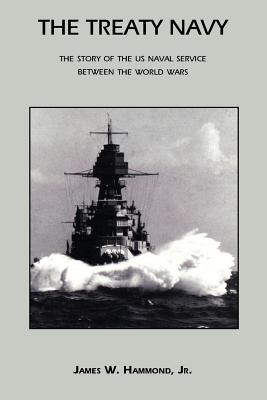 The Treaty Navy (Paperback)
The Story of the US Naval Service Between the World Wars
Trafford Publishing, 9781552128763, 296pp.
Publication Date: October 4, 2001
* Individual store prices may vary.
Description
The Treaty Navy: The Story of the US Naval Service Between the World Wars tells how the U.S. Navy, despite treaty limitatiosn, pacifist opposition, a parsimonious Congress and public neglect, prepared for the War in the Pacific it had known was coming for more than 20 years.

About the Author
Wes Hammond, a 1951 graduate of the U.S. Naval Academy, retired from the U.S. Marine Corps in 1975. In addition to a B.S. from the Naval Academy, he has a M.A. (International Law) from the Catholic University of America and a M.A. (Journalism) from the University of Nevada.

During more than a quarter of a century of active duty, he was wounded in action as an infantry platoon leader in Korea; twice, he was a tactics instructor at the Marine Corps Basic School in Quantico, Va.; commanded a company in an infantry battalion afloat in the Mediterranean; was aide-de-camp to MajGen. D.M. Shoup (later 22nd Commandant of the Marine Crops) on Okinawa, where Wes met and married Miss Donna M. Selby of Brighton, Colorado. He deployed with the forces afloat for the Cuban Missile Crisis. He commanded the 2nd Battalion, Fourth Marines ("The Magnificent Bastards") in Vietnam until wounded in action and evacuated. He returned to duty as Plans Officer of the 3rd Marine Division until wounded again. Then he was Head, Command Dept., Marine Corps Command & Staff College in Quantico. There he taught Research and Writing; Command and Staff Organization and a future concept of amphibious operations called "Sea Base." He was transferred to Hawaii and promoted to colonel and assigned as Protocol Officer and Aide to Commanderin- Chief, Pacific, Adm. John S. McCain, Jr. USN. He retired from Camp Pendleton, Calif., and returned to Reno, Nevada.

While on active duty (1964-67) he was Editor and Publisher of the "Marine Corps Gazette," the professional journal of the Marine Corps Association. Eight years after retiring from the Marine Corps, he moved to Annapolis, Maryland, to be editor of "Shipmate," the monthly magazine of the U.S. Naval Academy Alumni Association. After a dozen years there, he again retired and returned to Reno. He is the author of more than 50 articles in professional military journals as well as popular publications. His "Poison Gas - The Myths versus Reality" (Greenwood Press, Westport Conn. 1999) is a plea for common sense lest we be held hostage to fear of the unknown.

The Hammonds make their home in Reno but travel extensively. They have three children and seven grandchildren. A collaborator in this volume was LtCol. James W. Hammond, III USMC, who while still a Midshipman at the U.S. Naval Academy, traced down the answers to many queries from his father by searching the stacks of the Nimitz Library at the Academy.