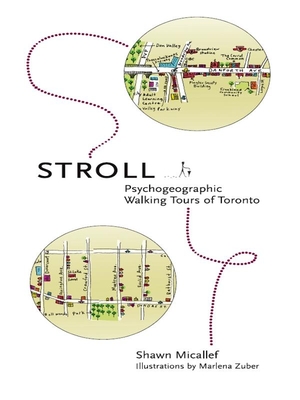 Stroll (Paperback)
Psychogeographic Walking Tours of Toronto
Coach House Books, 9781552452264, 310pp.
Publication Date: June 1, 2010
* Individual store prices may vary.
Description
Winner: 2011 Toronto Heritage Award of Merit What is the 'Toronto look'? Glass skyscrapers rise beside Victorian homes, and Brutalist apartment buildings often mark the edge of leafy ravines, creating a city of contrasts whose architectural look can only be defined by telling the story of how it came together and how it works, today, as an imperfect machine. Shawn Micallef has been examining Toronto's streetscapes for a decade. His psychogeographic reportages, some of which have been featured in EYE WEEKLY and Spacing magazine, situate Toronto's buildings and streets in living, breathing detail, and tell us about the people who use them; the ways, intended or otherwise, that they are being used; and how they are evolving. Stroll celebrates Toronto's details - some subtle, others grand - at the speed of walking and, in so doing, helps us to better get to know its many neighbourhoods, taking us from well-known spots like the CN Tower and Pearson Airport to the overlooked corners of Scarborough and all the way to the end of the Leslie Street Spit in Lake Ontario. Stroll features thirty-two walks, a flaneur manifesto, a foreword by architecture critic John Bentley Mays, dozens of hand-drawn maps by Marlena Zuber and a full-colour fold-out orientation map of Toronto.

About the Author
Shawn Micallef is a senior editor at Spacing magazine, a co-founder of [murmur], the location-based mobile-phone documentary project, and a columnist for Eye Weekly. He is also founding editor of the new weekly Toronto web magazine Yonge Street. He writes about cities, culture, buildings, art and politics for a variety of media outlets, and he is also an instructor at the Ontario College of Art and Design. In 2011, Shawn became a Massey Fellow at the University of Toronto.
Praise For Stroll: Psychogeographic Walking Tours of Toronto…
'A smart and intimate guide to the city that makes you feel like an insider from start to finish.' Douglas Coupland, author of Generation X

'As Toronto grows into a more mature, more compelling city, a new group of non-academic, street-smart urbanists has emerged to appreciate it with-it young writers, architects and men and women about town who love big cities and see things in Toronto that most of us miss. Shawn Micallef is one of the sharpest of this sharp-eyed breed.' - Marcus Gee, Globe and Mail

'Shawn Micallef looks at the city in a way we all should more often he sees it as a living book that is alive with stories just waiting to be told to the attentive observer. In Stroll, he gives us an introduction to just how interesting and surprisingly dramatic those stories are, and how exciting our city is when we hear them.' David Crombie, former mayor of Toronto