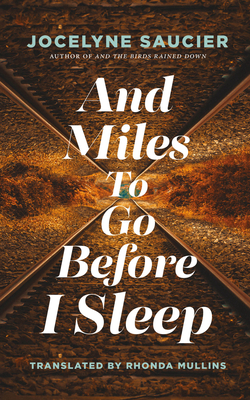 And Miles to Go Before I Sleep
Paperback

* Individual store prices may vary.
Description
Away From Her meets Strangers on a Train in this follow-up to cult bestseller And the Birds Rained Down
A journey as geographical as it is interior... a bumpy route, but one punctuated by contemplative pleasures, by small, lost joys... Simultaneously introspective and captivating, And Miles to Go Before I Sleep...] reconnects us to what is essential. --Les Libraires
"Nostalgic and beautifully grotesque, this novel is delightfully baroque and, although short, so striking it simply will never leave you." --The Coast, on And the Birds Rained Down
Cleaving closely to the award-winning Jocelyne Saucier novel on which it's based, this eco-friendly, elegantly delivered tale about the sunset changes in the lives of a trio of graybeards living in the woods is engaging, thought-provoking and ultimately moving. -The Hollywood Reporter, on the film adaptation of And the Birds Rained Down
After And The Birds Rained Down, a stunning meditation on aging and freedom (with more than 3,000 Goodreads ratings), Jocelyne Saucier is back with this unsettling story about a woman's disappearance.
Gladys might look old and frail, but she is determined to finish her life on her own terms. And so, one September morning, she leaves Swastika, her home of the past fifty years, and hops on the Northlander train, eager to put thousands of miles of northern Quebec between her and the improbably named village, and leaving behind her perennially tormented daughter, Lisana.
Our mysterious narrator, who is documenting these disappearing northern trains, is on a quest to uncover the truth of Gladys's voyage, tracking down fellow passengers and train employees to learn what happened to Gladys and her daughter, and why.
Coach House Books, 9781552454213, 208pp.
Publication Date: June 15, 2021