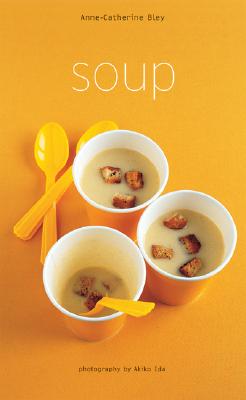 Soup (Paperback)
Whitecap Books, 9781552858349, 159pp.
Publication Date: October 9, 2006
Description
Hot, cold, savory and sweet for any occasion.
Served hot in the heart of winter or cold on the hottest summer day, a well-crafted soup is always a hit with family and friends. The 90 recipes in Soup are fun and easy, and will appeal to any home cook. With a wide variety of ingredients, cooking methods and serving ideas, this collection includes familiar favorites as well as recipes that offer unexpected flavors. A lush photograph accompanies each recipe. Served with noodles or croutons, filled with whole vegetable pieces or blended to a smooth cream, Soup has something for every palate and every occasion.
The 90 recipes include:
Tomato veloute with fresh coriander Pea soup with mint Corn and red pepper chowder Bouillon with potato quenelles Melon and mango soup.
About the Author
Anne-Catherine Bley runs a popular soup bar in Paris, where every day she prepares fresh seasonal soups for a large and loyal clientele.
Advertisement