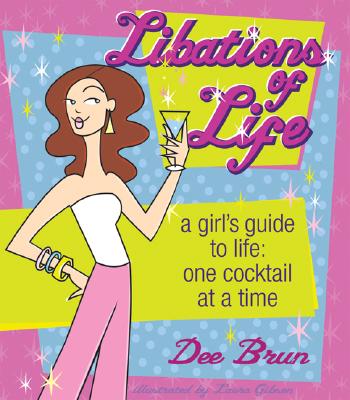 Libations of Life: A Girl's Guide to Life, One Cocktail at a Time (Hardcover)
A Girl's Guide to Life, One Cocktail at a Time
Whitecap Books, 9781552858998, 128pp.
Publication Date: September 14, 2007
* Individual store prices may vary.
or
Not Currently Available for Direct Purchase
Description
"When life hands you nothing but lemons, just slice, squeeze into a pitcher, add gin or vodka, stir and serve."
Life's highs and lows for working adults provide a hilarious subtext to the creative cocktails that take center stage in Dee Brun's Libations of Life.
Chapters such as "It's Not Me, It's You," "The Dating/Relationship Pool... and Its Lack of Lifeguards," "Trim the Back Fat" and "Trolling Cocktails" deliver a hefty portion of humor along with great cocktail ideas. Whether it's advice on how to chill during a breakup or, more importantly, how to whip up a "He Called Me by His Ex's Name on the Rocks" (with a splash of uncomfortable silence), this book has all the answers (in this case, the recipe for the deliciously fresh Plenty of Fish in the Sea Sling).
With great cocktail recipes to enjoy no matter what the current status of the relationship, Libations of Life will have its readers shaking, mixing or stirring like a pro. Among the other cocktails featured: The "I Need More Space Daiquiri" The "Please Don't Stalk Me Caesar, with a Slice of Restraining Order" The "I'm Going to Leave Him Martini, with a Slice of Dignity" The "I'm Emotionally Unavailable Manhattan" The "Maybe Next Time Mojito, with a Wedge of Hope" The "He Must Have Lost My Number on the Rocks."
Advertisement