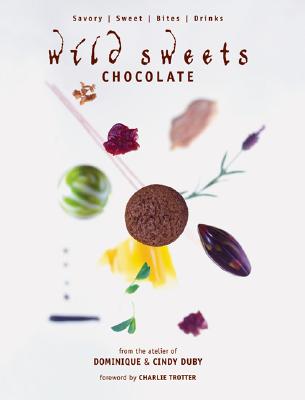 Wild Sweets Chocolate: Savory, Sweet, Bites, Drinks (Hardcover)
Savory, Sweet, Bites, Drinks
Whitecap Books, 9781552859100, 208pp.
Publication Date: October 12, 2007
Description
Wild, exotic ways to incorporate chocolate into sweet and savory delicacies.
Decadence and creativity merge into a blissful package of fine chocolate in this new cookbook by renowned chocolatiers Dominique and Cindy Duby. Chocolate is not delegated solely to the desserts section of this book but is incorporated throughout in savory dishes, giving each plate a velvety, complex and delicious finish. Not to worry: there are decadent desserts like baked chocolate cream and spiced caramel dust spoons.
This new cookbook includes sections on cocktails and drinks, savory dishes (shellfish, fish, meat, vegetables) and sweet ends. Also included are professional add-on recipes, a section on basics, and a resource list. All the exquisite recipes reflect the rationale at Wild Sweets, the authors' chocolatatelier. They blend the exotic and the familiar, and offer elements of surprise with a sense of comfort.
Among the selections: Braised short ribs, choco-wine sauce, cauliflower water risotto, and filo crunch BBQ pork, crispy gnocchi, toasted cocoa nibs, and spiced brown butter apple gelee, rock shrimp, celery leaf salad with cranraisins, and white chocolate-curry leaf milk, slow-roasted salmon, cocoa muscovado consomme, and vanilla potatoes, frozen chocolate pineapple freezy and white rum daiquiri.
Wild Sweets Chocolate will enchant the home cook. There are over 150 recipes in all.
About the Author
Dominique and Cindy Duby are world-acclaimed chocolatiers who led Pastry Team Canada in many international competitions. They founded and manage the critically acclaimed chocolate atelier and virtual boutique, Wild Sweets. They are also the authors of Wild Sweets: Exotic Dessert and Wine Pairings, which, when first published, won Best Book in the World for Food and Wine Matching from Gourmand World Cookbook Awards.
Advertisement