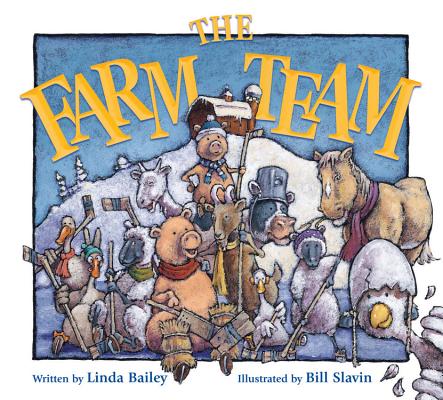 The Farm Team (Hardcover)
Kids Can Press, 9781553378501, 32pp.
Publication Date: September 1, 2006
* Individual store prices may vary.
or
Not Currently Available for Direct Purchase
Description
For fifty years the animals on Stolski's farm have played their hearts out for the Stolski Cup --- the dream of every hockey team all over the northland. And every year the Farm Team has lost to the nastiest, smelliest, snarlingest bunch of varmints ever to don skates --- the Bush League Bandits.

As soon as the puck drops for this year's playoff game, the Bandits, playing as dirty as ever, take an early lead. A Bandit porcupine named Needles starts ramming Farm Team players, while the weasels slash and spear. But the Farm Team's goalie Big George blocks some tough shots, while Billy the goat and Vera the goose net three goals to tie things up. Then the Bandits bring in a bruiser of a substitute player so big and mean that these plucky underdogs could be in for a serious mauling.

From the award-winning team of Linda Bailey and Bill Slavin and packed with on-ice action and laughs, this is the picture book hockey fans of every age have been waiting for.
About the Author
Linda Bailey is an award-winning author of many books for children, including Goodnight Sweet Pig, Stanley's Party, the Stevie Diamond Mysteries, and the Good Times Travel Agency series. She lives in Vancouver, British Columbia.Bill Slavin is an award-winning children's book illustrator with over 50 books to his credit. His works include Stanley's Party and The Bear on the Bed He lives in Millbrook, Ontario.
Advertisement