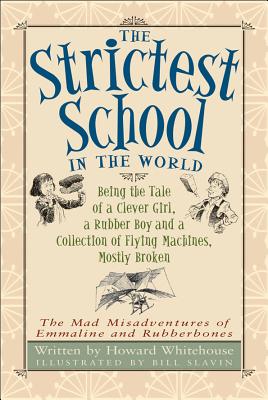 The Strictest School in the World (Paperback)
Being the Tale of a Clever Girl, a Rubber Boy and a Collection of Flying Machines, Mostly Bro
Kids Can Press, 9781553378839, 252pp.
Publication Date: August 1, 2006
* Individual store prices may vary.
Description
In the kick-off novel in the Mad Misadventures series, 14-year-old pioneering aviatrix Emmaline Cayley is afraid of one thing: plummeting to her doom. Fortunately, 12-year-old Robert Burns, an indestructible village boy, is not. Absurdly unafraid of bodily harm, "Rubberbones" is the ideal pilot for Emmaline's experiments with flight. But before Emmaline can perfect a flying machine with the aid of her new friend, she is sent off to St. Grimelda's School for Young Ladies -- to be cured of her decidedly unladylike ways. It is a school so strict, so severe, so forbidding that it makes the brutal misery in the tales of Charles Dickens look cheery by comparison. With a horrifying headmistress, terrifying teachers and food that is even worse than Aunt Lucy's, this medieval stronghold also houses a terrible secret and a mysterious way of keeping its prisoners, er, its students in line. All Emmaline can think of is escape. But no one has ever escaped from St. Grimelda's. And our heroine soon realizes that the only way out is to face her greatest fear.
or
Not Currently Available for Direct Purchase