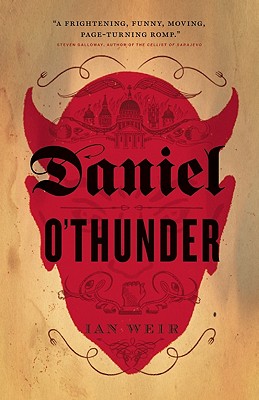 Daniel O'Thunder (Paperback)
Douglas & McIntyre, 9781553655640, 390pp.
Publication Date: April 1, 2011
* Individual store prices may vary.
Description
Library Journal Best Books 2011: Historical Fiction selection
Finalist for the Commonwealth Writers' Prize
Finalist for the Canadian Authors Association Fiction Award
Finalist for the Amazon.ca First Novel Award
Finalist for the Ethel Wilson Fiction Prize

1851. London, England. Once a well-known prize-fighter with a terrifying right fist (known as The Hammer of Heaven"), Daniel O'Thunder has seen the light, and now the protection of the poor and the weak is his life's work. He runs an establishment for those in need of food, shelter and counsela place where virtue and vice rub shoulders uneasily. But an ancient evil is stalking the streets, preying on the vulnerable souls it finds there. It is an evil that takes different forms and hides behind many faces, threatening everything Daniel loves most. Driven to desperation, Daniel responds by issuing a breathtaking challengeto the Devil himself. Rich in humor and memorable characters, Daniel O'Thunder is a rollicking literary thriller set in the teeming slums of Dickensian London. Fast-paced and gripping, comic and tragic by turns, it is a spectacular fiction debut.
About the Author
Ian Weir is an award-winning screenwriter, playwright and novelist. His TV credits include the acclaimed crime thriller "Dragon Boys," "Flashpoint," "Cold Squad" and "Beachcombers." He has won two Geminis, four Leos, a Jessie and the Writers Guild of Canada Canadian Screenwriting Award.
Praise For Daniel O'Thunder…
"I haven't a enjoyed a novel so much since Benioff's City of Thieves." John Valliant, author of The Tiger and The Golden Spruce

In this delicious jumble of a novel, Weir has created an epic hero Drenched in filthy Thames waters and coiffed in muttonchops, Weir's outlandish tale is a top-shelf page-turner"Publisher's Weekly

"The battle between the great Hammer of Heaven and the evil stalking him climaxes in a fight that will leave readers breathless. This robust historical novel by an award-winning Canadian screenwriter will captivate fans of Sarah Waters and Charles Dickens.Library Journal

"a triumpha frightening, funny, moving, page-turning romp. Deserves to be shelved where they keep Charles Dickens and Robertson Davies and Sarah Waters. Ian Weir is a storyteller of extraordinary ability." Steven Galloway, author, The Cellist of Sarajevo

[Weir] takes us right to the centre of London in 1851 with as brilliantly constructed a band of reprobates as Dickens ever saw. Marvellous from the first paragraph." Globe and Mail

Weir's unique retelling of the Gospels, set in mid-19th-century London, is Charles Dickens meets Tom Jones A knockout debut." National Post

Weir's plot steps smartly, and the language crackles with the immediacy of shifting first-person voices." Quill & Quire