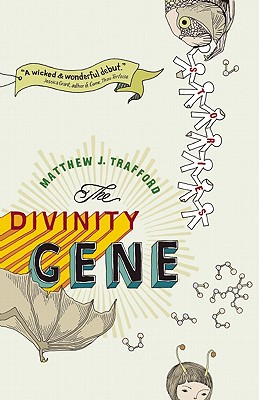 The Divinity Gene (Paperback)
Douglas & McIntyre, 9781553656036, 191pp.
Publication Date: August 23, 2011
* Individual store prices may vary.
Description
A mob of teens descends upon Paris in the thrall of a self-help author; a grotesque yard-sale statuette frees a dying man from his silence; the hottest club in town is staffed by angels. This is the uncanny world of The Divinity Gene, Matthew J. Trafford's debut story collection, and it bristles with humour, pathos, and imaginative power.

Skewering urban culture even as it conjures up the magic in the mundane, the stories of The Divinity Gene map the frailty of the human heart. Caught in the crosshairs of faith and science, its characters-bereaved, sidelined, cast adrift-journey forth to undiscovered places, in search of something to believe in, someone to love, always with disarming results. A passionately devout scientist clones Jesus Christ from the DNA contained in holy relics; a man makes a Faustian cyber deal with the devil for the sake of his family; bereaved parents sign on for an unorthodox government reparations project following a school tragedy.

Masterfully original, deeply human, The Divinity Gene introduces a bold and evocative new writer.
About the Author
Matthew J. Trafford's fiction has appeared in The Malahat Review and Matrix and has been anthologized in "Darwin's Bastards: Astounding Tales from Tomorrow." He has won the Far Horizons Award for Short Fiction and an honourable mention at the National Magazine Awards and has twice been shortlisted for the CBC Literary Prize. He lives in Toronto, where he works with deaf college students and performs long-form improv with his brother in their two-person troupe, The Bromos.
Praise For The Divinity Gene…
Shortlisted for the 2011 Frank O'Connor Short Story Award, the world's richest short story prize

"Trafford's alchemical mixing of research, fable, pathos, and plot yields impressive results."-Rain Taxi

"I love Mathew J. Trafford's imagination! In his world, scientists clone Jesus Christ, fishermen haul mermaids from the sea, and bartenders sprout angel wings. The Divinity Gene is a fantastical ride and a fantastic read." - Neil Smith, author of Bang Crunch

"In these unique and wildly imaginative stories, Matthew J. Trafford pairs crisp diction with unpredictable plots: you think you're going to arrive on the third floor, but the elevator takes you to another floor altogether, and it turns out to be a thoroughly enjoyable ride a must for readers looking for something fresh amid a sea of stale books."Quill and Quire
or
Not Currently Available for Direct Purchase