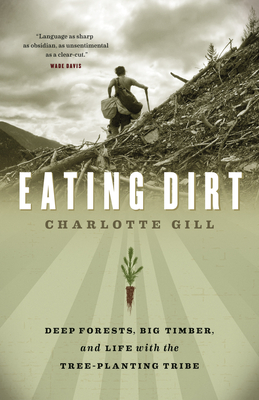 Eating Dirt (Paperback)
Deep Forests, Big Timber, and Life with the Tree-Planting Tribe
Greystone Books, 9781553657927, 247pp.
Publication Date: July 24, 2012
* Individual store prices may vary.
Description
- Winner of the BC National Award for Canadian Non-Fiction
- Winner of the 2012 Foreword Magazine Editor's Choice Prize Nonfiction
- Shortlisted for the Hilary Weston Prize
- Shortlisted for the Charles Taylor Non-Fiction Award "Charlotte Gill writes with a dexterity and nobility that soars. This is the best book, on several fronts, that I've read in a long time."-Rick Simonson, Elliott Bay Book Company During Charlotte Gill's 20 years working as a tree planter she encountered hundreds of clear-cuts, each one a collision site between human civilization and the natural world, a complicated landscape presenting geographic evidence of our appetites. Charged with sowing the new forest in these clear-cuts, tree planters are a tribe caught between the stumps and the virgin timber, between environmentalists and loggers. In Eating Dirt, Gill offers up a slice of tree-planting life in all of its soggy, gritty exuberance while questioning the ability of conifer plantations to replace original forests, which evolved over millennia into intricate, complex ecosystems. Among other topics, she also touches on the boom-and-bust history of logging and the versatility of wood, from which we have devised

About the Author
Charlotte Gill was born in London, England and raised in the United States (upstate New York) and Canada. She spent nearly two decades working in the forests of Canada and has planted more than a million trees. Gill has received many accolades for her writing, including nominations for the prestigious Governor General's Literary Award, Hilary Weston Prize and the BC National Award for Canadian Non-Fiction. Her story collection Ladykiller won the Danuta Gleed Award and BC Book Prize.
Praise For Eating Dirt: Deep Forests, Big Timber, and Life with the Tree-Planting Tribe…
"[a] brilliant memoir Gill's stories are fascinating, but she is possessed of that rarest of attributes among memoirists: an understanding of her own story as only a part of a broader picture, a willingness to broaden the focus beyond the particulars of her personal experience. This is a deeply researched, beautifully written book."
Emily St. John Mandel, The Millions

"Never have I read such a beautiful book with such a dull premise: what it's like to plant tree seedlings in the wake of logging companies' destruction. ...Gill turns a subject that might seem narrow and confined into a lyrical essay about labor and rest, decay and growth" Smithsonian Magazine

"Charlotte Gill gets my enthusiastic vote as the best nonfiction book of 2012. ...highly readable ...Gill's narrative is by turns gripping, funny, informative but always tactile"
John Sledge, Alabama Press Register

"The humility that lies in the title of Charlotte Gill's extraordinary Eating Dirt is more than borne out in this astonishing chronicle of work, the elements, and place. Charlotte Gill writes with a dexterity and nobility that soars. This is the best book, on several fronts, that I've read in a long time."
-Rick Simonson, Elliott Bay Book Company

"The trees they plant each year shimmy in the wind. There, we say. We did this with our hands. We didn't make millions, and we didn't cure AIDS. But at least a thousand new trees are breathing." For that, she can be proudand it makes for a good story."
Publishers Weekly

"An inspired narrative in a unique topic that is half memoir, half magic. ...A radiant piece of non-fiction by a talented writer, whose descriptions will make your back ache by the time you finish reading."
Sacramento Book Review, 5 stars

"In language as sharp as obsidian, as unsentimental as a clear-cut, Charlotte Gill tells the story of her tree-planting tribe, men and women who spend their lives atoning for the deeds of the rest of us who, to this day, continue to sacrifice the greatest temperate rainforest on earth on the altar of our prosperity."
Wade Davis

"Charlotte Gill is everything you could want from a storyteller: honest and wise, leanly lyrical, tough and tender in equal measure. In this exquisite book about a gnarly occupation, we come to appreciate the resilience of nature and humans both."
Philip Connors, author of Fire Season: Field Notes from a Wilderness Lookout
Book Videos
or
Not Currently Available for Direct Purchase