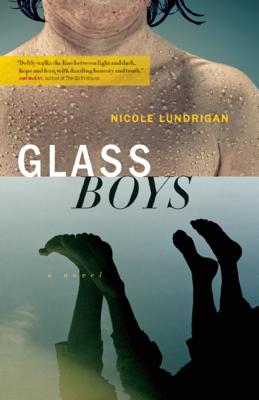 Glass Boys (Paperback)
Douglas & McIntyre, 9781553657972, 291pp.
Publication Date: July 24, 2012
* Individual store prices may vary.
Description
With vivid and unflinching prose, Nicole Lundrigan has created a riveting and deeply human saga of the persistence of evil and the depths and limits of love.

When Roy Trench is killed in a drunken prank gone wrong, his brother Lewis sees blood on the hands of the man responsible: the abusive alcoholic, Eli Fagan. Though the courts rule the death an accident, the event opens a seam of hate between the two families of Knife's Point, Newfoundland.

Desperate to smother the painful past with love, Lewis marries Wilda, and the pleasure he takes in their two children -- Melvin and Toby -- recalls the happier days of his childhood with Roy. But as he watches his small family fracture, the darkness of the past begins to cloud the present, leading Lewis back to Eli Fagan -- and his watchful stepson, Garrett Glass.

In the style of Newfoundland literature, established by Michael Crummey and Lisa Moore, Glass Boys is the haunting story of an unforgivable crime that brings two families to the brink.
About the Author
Nicole Lundrigan is the author of three critically acclaimed novels: "Unravelling Arva," "Thaw" and "The Seary Line." Her lit-er-ary fiction has been selected as a top ten pick by "The Globe and Mail," was long-listed for the Relit Award, and given honorable men-tion for the Sun-burst Award. She grew up in Upper Gul-lies, Newfoundland and now lives in Ontario with her family.
Praise For Glass Boys…
"Through the darkness, Lundigran tenderly creates moments of hope for her characters [they] are fully alive--nuanced and flawed--drawing readers into their plight in this rich, evocative novel."—Publishers Weekly

"Lundrigan's authorial voice is adept and fluid ...Readers who enjoy Annie Proulx and Kent Haruf will find similar themes in Lundrigan's work. A pitch-perfect novel with a writing style that shifts as easily as the characters' moods, Glass Boys is a triumph."Booklist

"Glass Boys deftly walks the line between light and dark, hope and fear, rewarding the reader every step of the way with dazzling honesty and truth."Ami McKay, Author of The Birth House

"Glass Boys, will...catapult Lundrigan into the spotlight...Her writing is so enthralling, and the story so full of suspense and interest, that there is a temptation to allow the pages to fly by when they really should be savoured..."Quill and Quire

"Glass Boys is a dark story and it carries a consistently weighty tone, yet the novel is laced with enough funny and tender moments between characters to spare it from being heavy or maudlin. ...Lundrigan's a great Newfoundland novelist everyone in the country should know"National Post

"Lundrigan is a generous writer, able to colour with many shades of grey, and tenderly allowing character to be a work in progress...By the end of Glass Boys, a delicate study of despair and yearning, Lundrigan's kindness and skill have led us to hope that (almost) every character -- bad, good or ambiguous -- feels safe enough to stay."Globe and Mail
or
Not Currently Available for Direct Purchase