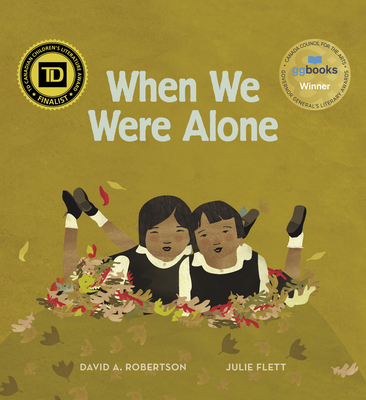 When We Were Alone (Hardcover)
Highwater Press, 9781553796732, 24pp.
Publication Date: March 1, 2017
Description
When a young girl helps tend to her grandmother's garden, she begins to notice things that make her curious. Why does her grandmother have long braided hair and beautifully colored clothing? Why does she speak another language and spend so much time with her family? As she asks her grandmother about these things, she is told about life in a residential school a long time ago, where all of these things were taken away. When We Were Alone is a story about a difficult time in history and, ultimately, one of empowerment and strength.
About the Author
David Alexander Robertson is an award-winning graphic novelist and writer who has long been an advocate for educating youth on Indigenous history and contemporary issues. He has created several graphic novels, including his newest series, Tales From Big Spirit, as well as the bestselling 7 Generations series. He was a contributor to the anthology Manitowapow: Aboriginal Writings from the Land of Water (2012) and is currently working on the upcoming novel, The Reckoner. His first novel, The Evolution of Alice, was published in fall 2014. David lives in Winnipeg with his wife and five children, where he works in the field of Indigenous education. Julie Flett is an award-winning Cree-Metis author, illustrator and artist currently living in Vancouver, BC. She received the Christie Harris Illustrated Children's Literature Prize and was nominated for the Governor General's Award for Children's Literature for her book Owls See Clearly at Night (Lii Yiiboo Nayaapiwak lii Swer): A Michif Alphabet (L'alphabet di Michif), and most recently Julie's book Wild Berries/Pakwa che Menisu was chosen as the First Nation Communities READ title selection for 2014-2015.
Advertisement