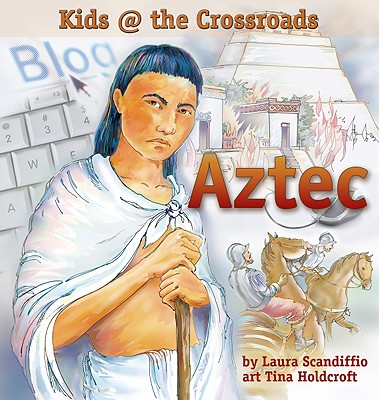 Aztec (Hardcover)
Annick Press, 9781554511778, 72pp.
Publication Date: August 20, 2009
* Individual store prices may vary.
or
Not Currently Available for Direct Purchase
Description
What if kids kept blogs during pivotal moments in world history?
The Internet offers modern kids amazing ways to express themselves and learn about the world. Imagine if the same technology had been available to children during dramatic episodes in history. Welcome to the Kids at the Crossroads series.
Each book is written as an Internet journal, including illustrated snapshots of the action and "links" to sidebar windows providing facts about and images of the era. This innovative blend of history and high-tech storytelling is sure to capture the attention of web junkies and history buffs alike.
"Aztec: Kids at the Crossroads" logs you on to the blog of 12-year-old Yoatl, an Aztec living in 1519. Although he's the son of a warrior, Yoatl always figured he'd be schooled as a priest. But when his father is disgraced in battle, Yoatl loses his prestigious spot at school and is sent instead to train as a warrior.
From day one, Yoatl struggles with his training. Then, in his first battle, he rescues an enemy Tlaxcalan boy from being trampled. When Yoatl's superiors mistake the move for military heroism, he is celebrated for capturing a victim to be used as a human sacrifice. Desperate to correct the boy's destiny, Yoatl arranges his escape, only to be captured himself by the enemy.
Yoatl soon discovers that the Tlaxcalans have allied with pale, hairy-faced strangers who have powerful weapons. At first intrigued by the newcomers, Yoatl is soon alarmed enough to use all his wiles to escape these conquistadors and warn his people of the coming storm... only to find that his emperor already welcomes these newcomers with open arms.
The world of the Aztec comes alive through the immediacy of the blog style and fact-filled windows linked to the text. "Aztec: Kids at the Crossroads" is historical fiction like you've never seen it before.
About the Author
Laura Scandiffio is the award-winning author of "Escapes!" and "The Martial Arts Book." She lives in Toronto. Tina Holdcroft has illustrated more than 30 books for young readers. She lives in Toronto.
Advertisement