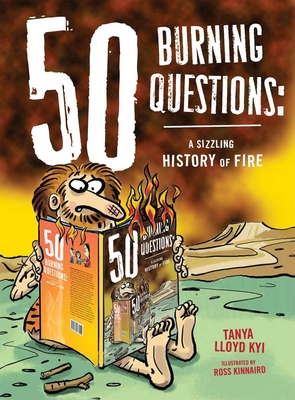 50 Burning Questions: A Sizzling History of Fire (Hardcover)
A Sizzling History of Fire
Annick Press, 9781554512218, 100pp.
Publication Date: January 22, 2010
Description
If we took time to examine the flames in our worldfires that have built civilizations, sparked entire religions, and literally changed the surface of the Earthcan you imagine how many questions we would have? The 50 questions in this book may be just the beginning, but they will intrigue and excite young readers. From the question of Who's for dinner? (before mastering fire, humans were more likely to be prey than predators), to Who were the first firefighters? (Romans over 2,000 years ago), to Why don t firewalkers get toasted feet? (theories abound, but no one knows for certain), the amazing answers reveal the crucial role fire has played for millennia. With a humorous touch ( Who was the first hairy potter? ), Tanya Lloyd Kyi presents fascinating facts alongside innovative activities for kids, like sending breath through a glass jar and playing spy games with a flashlight. Each sidebar turns up the heat on the subject, while comical illustrations make for a fun and fiery visual presentation.
About the Author
Tanya Lloyd Kyi is the author of numerous popular non-fiction books for young readers, including "Rescues!" She lives in Vancouver, British Columbia. Ross Kinnaird is an illustrator who has worked in London, England, Sydney, Australia, and Hong Kong. He currently lives in Auckland, New Zealand.
Advertisement