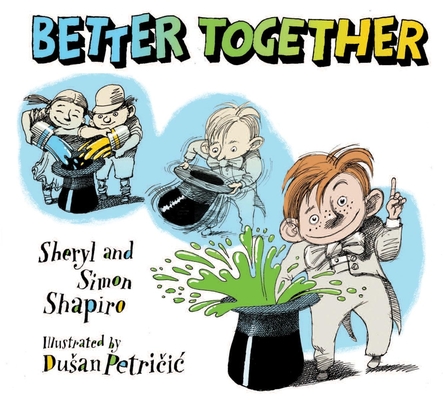 Better Together (Hardcover)
Annick Press, 9781554512799, 32pp.
Publication Date: February 1, 2011
Description
Mix anything together and who knows what you ll get. You may create something wonderfully different Water and flour make a sticky paste perfect for arts and crafts. And what can be better than mixing sugar, milk and butter to produce yummy fudge? With simple words and vivid illustrations, this series of 13 fun and bouncy poems illustrates the concept of combining things. Mixing blue and yellow paint to make green is probably familiar to most children, but who thinks of music as being the result of mixing the sounds of instruments? Or a sports team as the combination of many players with different strengths? Young children will love listening to these funny poems while learning about a simple, but important, concept.
About the Author
Sheryl and Simon Shapiro have been married for 34 years and live in Toronto, Ontario. They blended their different talents on this project, and the result is truly better together. Dusan Petricic is the award-winning illustrator of such children's classics as "Mattland" and "Bone Button Borscht." He lives in Toronto, Ontario.
Advertisement