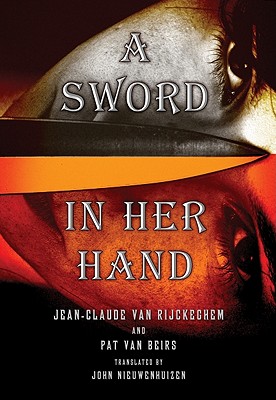 A Sword in Her Hand (Hardcover)
Annick Press, 9781554512911, 276pp.
Publication Date: February 3, 2011
* Individual store prices may vary.
or
Not Currently Available for Direct Purchase
Description
"A feast of a medieval adventure with a thoroughly modern heroine."
As the murmur of prayers fills the icy room, mother and baby seem doomed. When the newborn finally struggles into the world, the Count of Flanders flees in a rage. The child is not the expected male heir -- but a girl.
Growing up under the disapproving eye of her heartless father, the strong-willed Marguerite instinctively learns to survive in the fierce and violent male world of the Middle Ages, with its pagan rituals and bloody fights to the death.
When her father demands that she wed a man she detests, the young countess uses all her cunning to stop the marriage. The only thing she cannot conquer is the plague, which marches across the land killing thousands, including the man she loves.
Based on a real character, this colorful story is told with sharp humor and is filled with dramatic intensity. The final scene in the book, in which Marguerite and her father engage in a savage sword fight, will remain engrained in readers' memories.
""Winner of six major European awards, this is a brilliantly written book, with a feisty narrator and sharp sense of humour -- the medieval world was seldom more alive.""
-- girl.com.au
""Dramatic in . . . a masterly way. Power and temperament give the tale conviction, far away from mere medieval setting and brave historical obligingness.""
-- Die Zeit
About the Author
Jean-Claude van Rijckeghem and Pat van Beirs have together written young adult novels, scripts for a historical graphic novel series and the screenplay for "Moscow, Belgium," which won best screenplay at the Cannes Film Festival. John Nieuwenhuizen, an award-winning translator of Dutch and Flemish literature, has won the Mildred Batchelder Award for translation from the American Library Association.
Advertisement