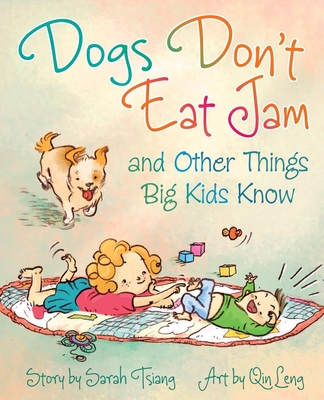 Dogs Don't Eat Jam and Other Things Big Kids Know (Paperback)
Annick Press, 9781554513598, 32pp.
Publication Date: August 7, 2011
Description
New babies have a lot to learn; lucky for them, the older sibling in this delightful picture book is here to tell them everything they have to remember and look forward to. Whether it's advice on turning regular people into parents, learning how to goand stopor figuring out the most important words (Mama Dada Up ), Dogs Don t Eat Jam is filled with useful tips and lessons from an experienced older sibling that will help newborns navigate the uncertainties of their new world. Following on the heels of the much-praised A Flock of Shoes, Sarah Tsiang and Qin Leng team up for a second time in this playful new picture book. It's the ultimate guide for newborns from an older, wiser sibling.
About the Author
Sarah Tsiang is the author of "A Flock of Shoes," also illustrated by Qin Leng, and of the poetry collection "Sweet Devilry," to be published in 2011. She lives in Kingston, Ontario. Qin Leng is an award-winning animator and illustrator. She lives in Toronto, Ontario.
Advertisement