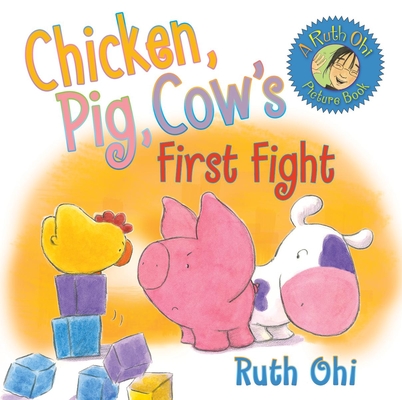 Chicken, Pig, Cow's First Fight (Paperback)
Annick Press, 9781554513703, 32pp.
Publication Date: February 1, 2012
Description
"Even best friends can have a fight."
Chicken, Pig, and Cow have always gotten along well--until the day Girl builds a big city out of blocks. Thinking something is missing, Chicken makes a statue out of leaves. Now the city is perfect.
Pig loves zipping and zooming around the city. Chicken warns him to be careful, but Pig is having too much fun to listen. Then the inevitable happens: Pig zooms right into Chicken's statue, destroying it. Chicken is furious
Pig's attempts to fix the statue only make matters worse. In the end, he demolishes the entire city. Realizing what a mess he's made, Pig hides while Chicken, Cow, and Dog rebuild the city. After a nap, Pig feels better and returns to apologize to his friends. They forgive him and invite him to join in.
As with all the books in this popular series, "Chicken, Pig, Cow's First Fight" offers young children a gentle message about teamwork and cooperation.
About the Author
Ruth Ohi has illustrated and written many books for children, including all six books in the "Chicken, Pig, Cow" series. She is currently a writer-in-residence for the Toronto District School Board.
Advertisement