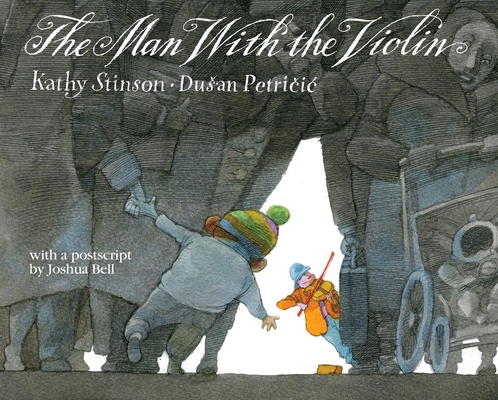 The Man with the Violin (Hardcover)
Annick Press, 9781554515653, 36pp.
Publication Date: September 1, 2013
Description
Who is playing that beautiful music in the subway? And why is nobody listening? This gorgeous picture book is based on the true story of Joshua Bell, the renowned American violinist who famously took his instrument down into the Washington D.C. subway for a free concert. More than a thousand commuters rushed by him, but only seven stopped to listen for more than a minute. In The Man with the Violin, bestselling author Kathy Stinson has woven a heart-warming story that reminds us all to stop and appreciate the beauty that surrounds us. Dylan is someone who notices things. His mom is someone who doesn t. So try as he might, Dylan can t get his mom to listen to the man playing the violin in the subway station. With the beautiful music in his head all day long, Dylan can t forget the violinist, and finally succeeds in making his mother stop and listen, too. Vividly imagined text combined with illustrations that pulse with energy expertly demonstrate the transformative power of music. With a postscript explaining Joshua Bell's story, and afterword by Joshua Bell himself.
About the Author
Kathy Stinson is the author of over 25 books for young people, including the beloved, bestselling "Red Is Best." She lives near Guelph, Ontario. Dusan Petricic is an editorial cartoonist as well as the award-winning illustrator of such children's books as "Mattland," "Bone Button Borscht," and "Mr. Zinger's Hat." He lives in Toronto, Ontario.
Advertisement