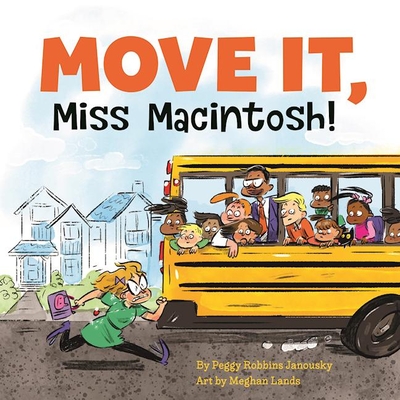 Move It, Miss Macintosh! (Hardcover)
Annick Press, 9781554518630, 32pp.
Publication Date: October 11, 2016
Other Editions of This Title:
Paperback (10/11/2016)
Paperback, French (9/1/2017)
* Individual store prices may vary.
Description
It's the first day of school and Miss Macintosh is certain about one thing: she isn't going As she snuggles back under the covers, the doorbell rings. In comes Mr. Bellweather, the school principal who assures her that all kindergarten teachers have first day jitters.
Soon, other teachers arrive to help get her out the door. Mrs. Burger, the lunch lady, makes sure she has a good breakfast; Mrs. Sketcher, the art teacher, helps her pick out clothes. Still, Miss Macintosh is anxious. What if she can't find her class? What if no one likes her?
When she finally stands at the front of her class, she can tell that the children are nervous too. That's when she comes up with an idea to put everyone at ease -- including herself.
A perfect read-aloud to children who may be anxious about school, this book will get them laughing -- and reassure them -- as they get ready for the big day.
About the Author
Peggy Janousky holds a master's degree in education and has taught on all levels -- preschool through college. Peggy's work has appeared in three of Lee Bennett Hopkins' anthologies, as well as several children's magazines. She lives in Orlando, FL. Illustrator Meghan Lands writes and draws a monthly strip for Owl Magazine, a publication for children, as well as pursuing her freelance graphic career as a cartoonist, illustrator, and storyboard artist. She graduated with distinction from Concordia University's Fine Arts program. She lives in Montreal, QC, Canada.