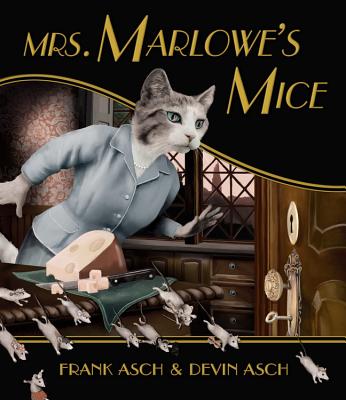 Mrs. Marlowe's Mice (Hardcover)
Kids Can Press, 9781554530229, 32pp.
Publication Date: August 1, 2007
Description
Meet Mrs. Eleanor Marlowe, a young widow who lives in an apartment by herself --- not counting the extended family of mice who secretly live with her. Harboring mice is a very serious offense in Cat City. Why would a mild-mannered widow run such a risk? The neighbors wonder why Mrs. Marlowe never invites anyone over for catnip tea. Her secret little friends are beginning to wonder about their host, too. So fine is the cheese she serves that some of Mrs. Marlowe's mice wonder if she's fattening them up for the kill.

One day, officers from the Department of Catland Security show up at Mrs. Marlowe's door, demanding to search the premises. Can this crafty feline outwit the police and save her mice from certain doom? Is Mrs. Marlowe the mouse-sympathizer she appears to be? Or is she really a mouse-hungry monster stocking her larder with fresh mice?
About the Author
Frank Asch is the author and illustrator of more than 70 books for children. His picture books with Kids Can Press include Ziggy Piggy and the Three Little Pigs and Mr. Maxwell's Mouse (illustrated by his son, Devin Asch). Frank lives in Middletown Springs, Vermont.Devin Asch is an illustrator and photojournalist. He divides his time between LA and Hawaii.
Advertisement