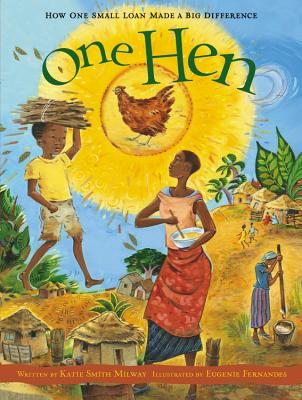 One Hen
How One Small Loan Made a Big Difference (CitizenKid)
Hardcover

* Individual store prices may vary.
Other Editions of This Title:
Paperback (4/7/2020)
Description
Inspired by true events, One Hen tells the story of Kojo, a boy from Ghana who turns a small loan into a thriving farm and a livelihood for many. After his father died, Kojo had to quit school to help his mother collect firewood to sell at the market. When his mother receives a loan from some village families, she gives a little money to her son. With this tiny loan, Kojo buys a hen. A year later, Kojo has built up a flock of 25 hens. With his earnings Kojo is able to return to school. Soon Kojo's farm grows to become the largest in the region. Kojo's story is inspired by the life of Kwabena Darko, who as a boy started a tiny poultry farm just like Kojo's, which later grew to be the largest in Ghana, and one of the largest in west Africa. Kwabena also started a trust that gives out small loans to people who cannot get a loan from a bank.One Hen shows what happens when a little help makes a big difference. The final pages of One Hen explain the microloan system and include a list of relevant organizations for children to explore. One Hen is part of CitizenKid: A collection of books that inform children about the world and inspire them to be better global citizens.
Praise For One Hen: How One Small Loan Made a Big Difference (CitizenKid)…
An inviting text and bright acrylic artwork on oversize pages follow Kojo, a rural Ashanti boy, as he builds a poultry farm with a small loan.—School Library Journal, Starred Review

... Kojo's inspiring, upbeat microfinance story makes the economic concept easy to grasp and admire. Sunny acrylic illustrations [and]impressionistic full-page art ...—Booklist

Extremely appealing ... beautifully illustrated in acrylics by award-winning artist Eugenie Fernandes ... Highly recommended ...—Canadian Children's Book News

Fernandes's large acrylic paintings ... include numerous details ... [and] spark the imagination. This distinguished book will enhance many curriculum areas.—School Library Journal, Starred Review

... a powerful tale about the value of offering a hand up, instead of a hand out ...—Todays Parent

The text and visuals work individually and together to create a compelling story that is simple without being simplistic and that avoids patronizing attitudes ... the book accomplishes the rare feat of entertaining and educating ... likely to be a hit with both kids and teachers.—Quill & Quire, Starred Review

... Kojo's story, with its vibrant illustrations, will plant more than the germ of an idea in the minds of young readers.—Globe and Mail

One Hen is emotionally affecting, as well as informative ...—Vancouver Sun

The vibrant folkish art by Eugenie Fernandes bursts with color and texture and enhances this uplifting tale of the power of giving someone a chance.—Detroit Free Press

... the beneficial effects of small loans and small projects are thoughtfully and carefully explained in the extensive text ... Acrylic illustrations are vivid and lively ...—Bulletin of the Center for Children's Books

Bright acrylics fill this spirited picture book ... a pleasing ... purposeful tale about change and hope.—San Francisco Chronicle

... encourages children ages 7 and up to think about the power we each have to initiate positive changes in the world.—Breitbart
Kids Can Press, 9781554530281, 32pp.
Publication Date: February 1, 2008
About the Author
Katie Smith Milway, a native of Vancouver, B.C., has coordinated community development programs in Africa and Latin America for Food for the Hungry; consulted on village banking in Senegal with World Vision and was a delegate to the 1992 Earth Summit. She has written books and articles on sustainable development and is currently a partner at nonprofit consultancy The Bridgespan Group, based in Boston, Massachusetts.
Eugenie Fernandes is an award-winning picture book author and illustrator. Her many works include the Little Mouse series, Earth Magic, One Hen and Kitten's Spring. She lives in southern Ontario.