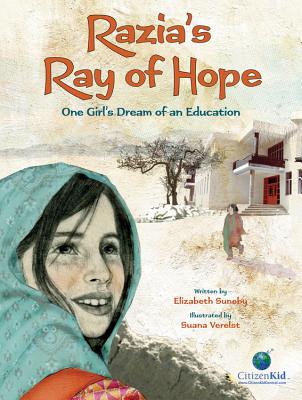 Razia's Ray of Hope
One Girl's Dream of an Education (CitizenKid)
Hardcover

* Individual store prices may vary.
Other Editions of This Title:
Paperback (3/3/2020)
Description
Razia is excited when her grandfather tells her there's a school for girls being built in their Afghan village. At last, girls will have the same opportunity to be educated as boys. "Every night I fell asleep dreaming about going to school like my brothers," she says. Her grandfather wants Razia to enroll in the school. He remembers a time, before the wars and the Taliban, when educated women in Afghanistan became doctors, government workers and journalists, and how this made families and the country stronger. Razia knows, however, that she will need permission from her father and her oldest brother, Aziz, in order to be allowed to attend the school. She begs her grandfather, "Please, Baba gi, ask Baba and Aziz if I may go. I must go." But will her grandfather's words be enough to convince the younger men of the value of an education for Razia? Inspired by real-life Razia Jan's experiences when she built the Zabuli Education Center outside of Kabul, Afghanistan, author Elizabeth Suneby uses a fictionalized story to deftly personalize the plight of many children around the world who are not being educated. The layered, mixed-media illustrations by Suana Verelst add contextual details about life in an Afghan village. This book works perfectly for a social studies lesson on global cultures. Extra resources include an overview of children worldwide who do not attend school, the story of the real Razia Jan, a glossary of Dari words found in the text and activity suggestions.
Praise For Razia's Ray of Hope: One Girl's Dream of an Education (CitizenKid)…
Purposeful in a positive way, this imaginatively illustrated book should open readers' eyes to issues facing children who live in very different circumstances.—Kirkus Reviews

This inspirational story is as beautifully illustrated as it is told. It is vital that young readers have stories like this one to show them that positive change is possible in the world, and that believing in yourself is the first step.—Mary Chapin Carpenter, multi-platinum Grammy-winning recording artist/songwriter

The back matter includes a list of classroom-friendly activities that should help teachers encourage readers to appreciate the literary, artistic, and historical elements of this book.—Booklist
Kids Can Press, 9781554538164, 32pp.
Publication Date: September 1, 2013
About the Author
Elizabeth Suneby loves words! Writing helps Liz come up with new ideas, learn new things, figure out her feelings and express them to others. Writing is also how Liz earns a living. She writes content for companies large and small. She writes magazine articles. And she writes books for children and teens that help kids find their voice in a hopeful world.
Suana Verelst was born in Antwerp, Belgium, and grew up in Kortrijk, a Belgian town close to the French border. She studied drawing and painting at the Academy of Fine Arts in Sint-Niklaas, East Flanders, before leaving for Canada to continue her studies in Art History, Fine Arts and Graphic Design.